Register today for your FREE account for our Typo3 Cookies Consent solution.
Try our paid subscriptions Basic and Plus for Free for 14 days.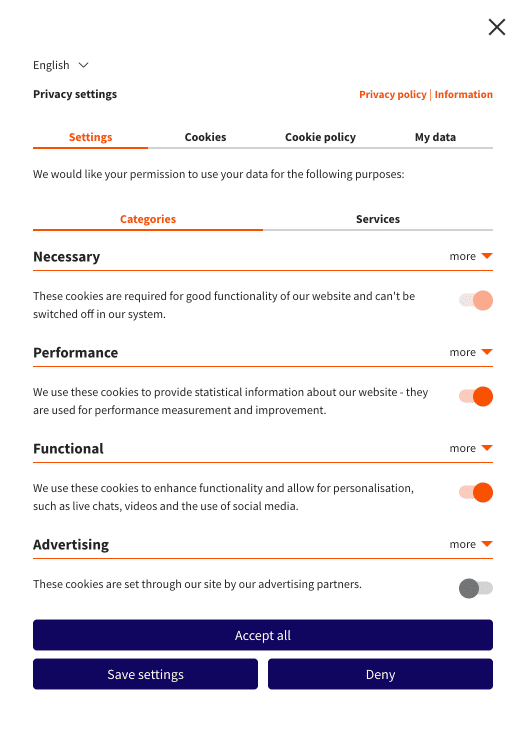 GDPR compliant cookie solution / cookie banner
Typo3 Cookies Consent solution / Cookie Banner
Make a statement with a cookie banner unique to your website and brand. Our tool allows you to customize everything from color and placement to font, style and more.
Our Typo3 cookie consent solution is incredibly simple and straightforward. Built for technical and non-technical users alike, you'll be able to get started with CookieFirst in a matter of mere minutes.
Through an advanced scan of your website, our tool can provide you with insight into its use of third-party cookies. It can even auto-generate a policy based on what it finds.
Stay on top of your website's cookie use and understand the details of users' consent preferences through an all-in-one analytics dashboard.








What is CookieFirst? – Typo3 Cookie Consent
CookieFirst is a unique and powerful platform designed to simplify the process of obtaining user consent for the use of third-party scripts. It helps website owners create and administer frameworks to obtain users' permission for cookie use as well as monitor their compliance with important data privacy laws. The CookieFirst CMP offers Typo3 Cookie Consent.
An easy to use interface for Typo3 users.
Let's face it – technology can be complicated, and not everyone has the skills or background required to manage all of the elements of a website. That's where our user-friendly interface comes into play. We've designed CookieFirst to be as simple and intuitive as possible, so that anyone can use it to create a cookie consent solution for their Typo3 website and integrate it with ease.
A cookie is a type of small text file your website stores in visitors' browsers every time they make a visit. Cookies are used to save data that allows websites to recognize returning visitors and personalize their experience. Whether it's for analytics or marketing purposes, most websites use some form of cookies.
Cookies aren't bad in and of themselves. However, they can be misused and are therefore subject to a range of data privacy regulations around the world. Laws like the European Union's GDPR mandate that websites gain consent from visitors before storing cookies on their device.
Our prices
Typo3 is an enterprise-class content management system suitable for large and small websites alike. It is written in PHP and has a wide range of features, including user management, workspaces, versioning, document management, and much more.
Used by hundreds of thousands of websites worldwide, including many Fortune 500 companies, Typo3 has a well-deserved reputation for being stable, secure and extremely nimble. The platform has an active community of developers and contributors who have created a wide range of extensions and templates to extend the functionality of the core system.
While Typo3 can be used for a wide range of websites, it is particularly well-suited to publishers, news sites and other content-heavy websites. Thanks to its advanced user management system, Typo3 makes it easy to create and manage complex editorial workflows.
Pricing | Typo3 Cookie Consent
Get 1 Month for Free with Annual Plans