Register today for your FREE account for our Woocommerce Cookies Consent solution.
Try our paid subscriptions Basic and Plus for Free for 14 days.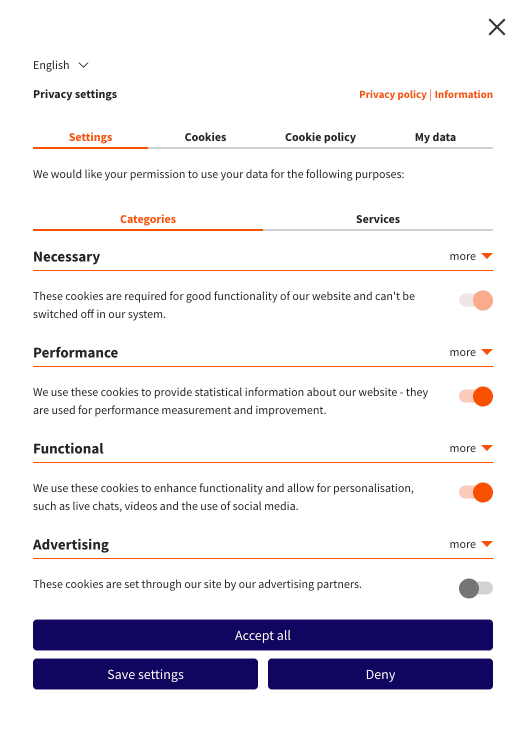 GDPR compliant cookie solution / cookie banner
Woocommerce Cookies Consent solution / Cookie Banner
Build a cookie consent banner completely unique to your website and brand through comprehensive color, font, position and style options.
Our WooCommerce cookies consent solution is unbelievably easy to set up and use. You'll be able to get it up and running in minutes and use it confidently thanks to a no-frills interface.
By scanning your webpage to identify and understand its use of third party scripts, our tool can automatically generate a cookie policy per your circumstances. You can edit this policy as you see fit, or embed it as is.
Get an overview of how users interact with the cookie consent banner on your website. See which buttons are being clicked and what percentage of users accept or decline cookies.








What is CookieFirst? – Woocommerce Cookies Consent
CookieFirst is an advanced cookie consent management platform designed to help today's WooCommerce store owners control their use of third-party scripts. It simplifies the issue of consent by providing them with a turnkey suite of tools, including a customizable cookie consent banner, an automatic cookie policy generator and detailed statistics about user engagement. Through CookieFirst's WooCommerce cookies consent solution, online store owners can operate their websites with confidence knowing they aren't at risk of fines for non-compliance with data privacy laws.
An easy to use interface for Woocommerce users.
As a website owner, you're probably used to having to fiddle with code or find the help of a developer whenever you want to make changes to your site. CookieFirst is different. Our platform was designed with the everyday user in mind. You don't need any coding skills or technical knowledge to get started – our straightforward setup system will have you up and running in minutes. What's more, CookieFirst CMP is one of few solutions on the market to be compatible with so many web platforms. WooCommerce is just one of our many integrations.
Our prices
WooCommerce is an eCommerce plugin for WordPress. It is used by a number of online retailers to sell products and services online and boasts a number of features that make it an attractive option for large and small businesses alike.
One of the main advantages of WooCommerce is that it is open source, meaning that it can be used and customized by anyone. This makes it a popular choice for developers and online store owners who want to have complete control over their website.
WooCommerce is also a very versatile platform. It can be used to sell physical and digital products, as well as services. And because it is built on WordPress, it benefits from a large community of developers and a wide range of plugins and themes that can be used to extend its functionality.
Pricing | Woocommerce Cookies Consent
Get 1 Month for Free with Annual Plans