CookieYes Alternative for cookie consent management | 
CookieFirst
Consent is easy to obtain in person – all the individual needs to respond is yes or no. However, the act of getting consent online is much more complicated. This is especially true in the context of the GDPR and other privacy regulations like the CCPA.
What can you do to obtain valid consent without disrupting the flow of your website and other online tools? Most companies rely on third-party tracking, tracking cookies, profiling, or other scripts to drive their ad campaigns – so you can't quit cold turkey.
The best solution is to use a consent management platform to help you get express consent without installing a complicated or overly technical solution. At CookieFirst, we provide the best CookieYes Alternative to help you comply with GDPR requirements and ensure you protect your business!
What is a Consent Management Platform?
A consent management platform, or CMP, is a tool that allows you to obtain consent from your website visitors so that you can use cookies, third party scripts, and other tracking technology. Not all CMPs are equal, though, and this guide will delve into the specifics you should consider when you choose a platform to manage your cookies.
A CookieYes Alternative that Manages More than Just Cookies
So, what does an effective CookieYes alternative look like? For starters, your CMP should do a lot more than only managing cookies.
GDPR legislation and similar data security laws require you to obtain consent before running third-party scripts, plug-ins, and even embedding content. While the consent requirements will vary based on factors, like where you transfer the data to and how it is processed, one thing is clear: consent applies to much more than just cookies.
CookieFirst is an alternative to CookieYes that helps you obtain consent for using data – regardless of whether that is through cookies, embeds, or more. For example, CookieFirst can help you manage your policies and consent process for YouTube embeds and other similar tools.
Once you obtain consent, you can run your standard process to load cookies and scripts. You can only move forward after you get a valid opt-in for the scripts that need approval. That means if the user opts out of tracking or running third party scripts, you must immediately stop loading them.
Instead of sending users to a third-party landing page to revoke consent, it is more convenient to keep the process streamlined. CookieFirst is the perfect CookieYes alternative because it makes it simple for users to revoke their consent by maintaining the experience as standardized as possible.
CookieFirst is a CookieYes alternative for Privacy First solutions
Our CookieYes alternative solution also ensures that you can put privacy first. By embedding in your privacy policy, you can integrate many of the legal texts and other documents that govern your data protection efforts.
The embed script allows you to integrate your data protection declaration, and you can even choose to develop a separate cookie policy page if that makes sense for your organization. Another thing to consider is how your CMP will use that information to protect the privacy of your users.
CookieFirst is a CookieYes alternative that will never turn into a data-hungry third party. A consent management platform must avoid matching the consent of one user across several websites. This could be considered profiling – and would require consent itself to be legal.
Another way to think about it is that you should integrate privacy into the design of the CMP. At CookieFirst, we do just that – so you can be confident that your users are protected and that your business is meeting all regulatory standards!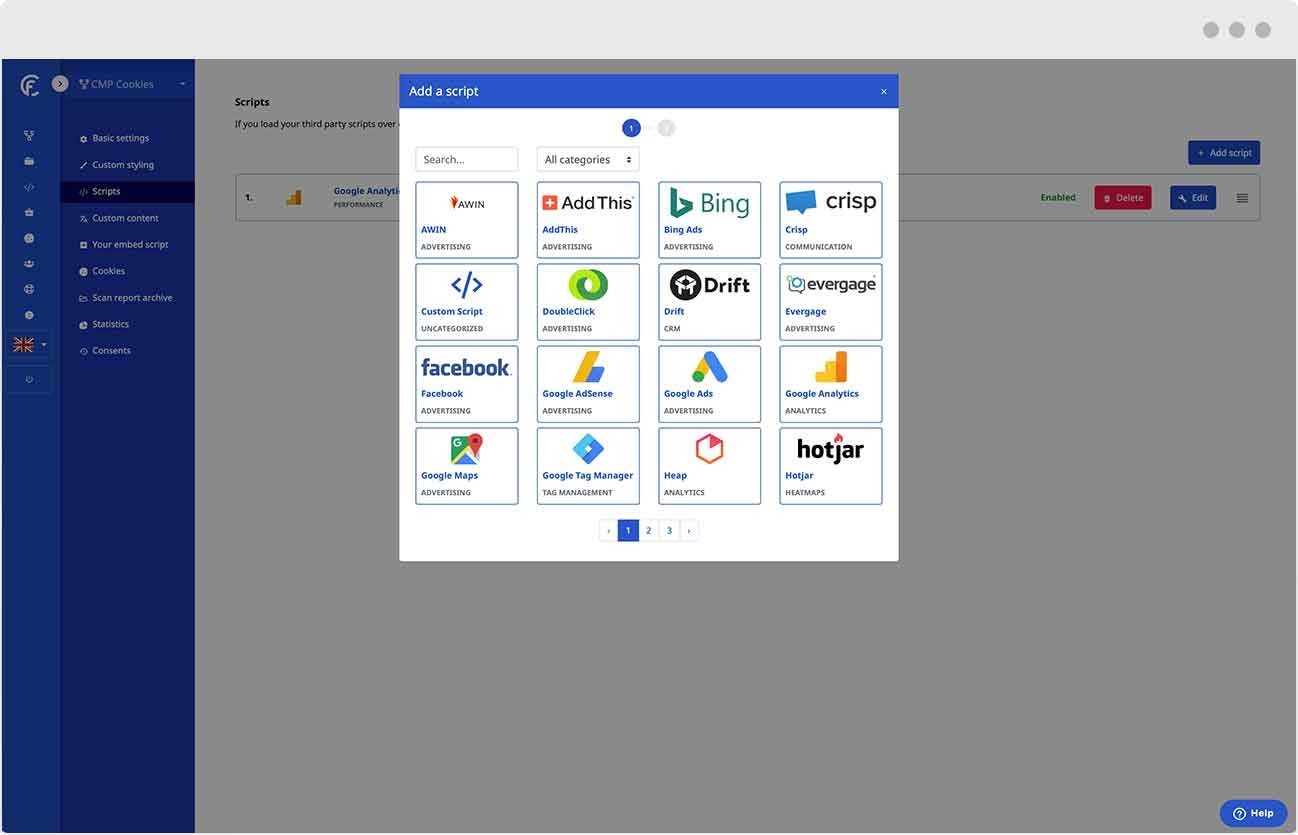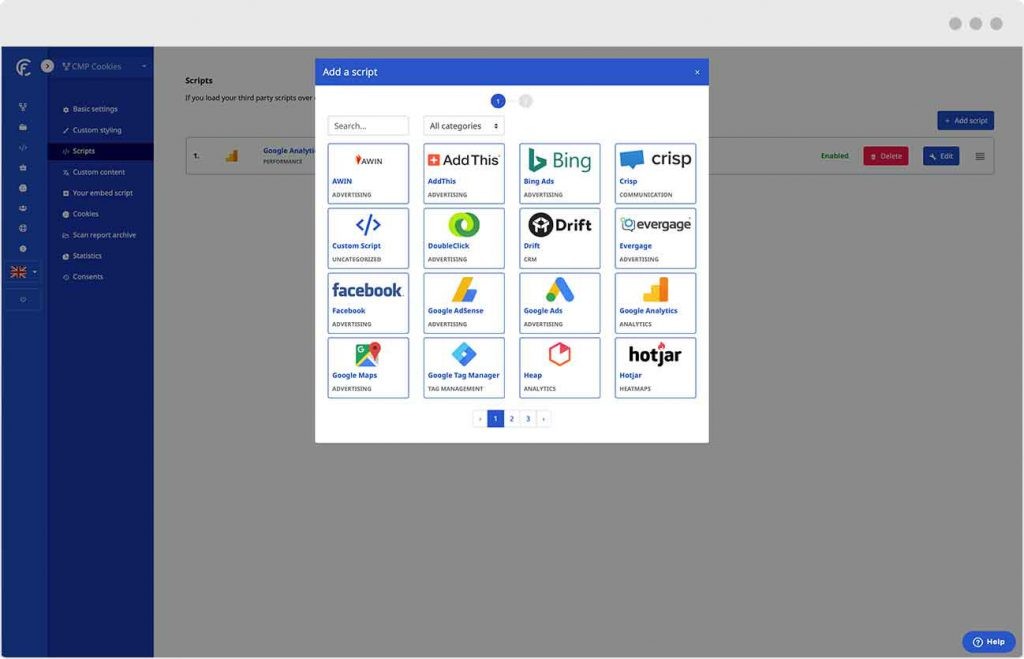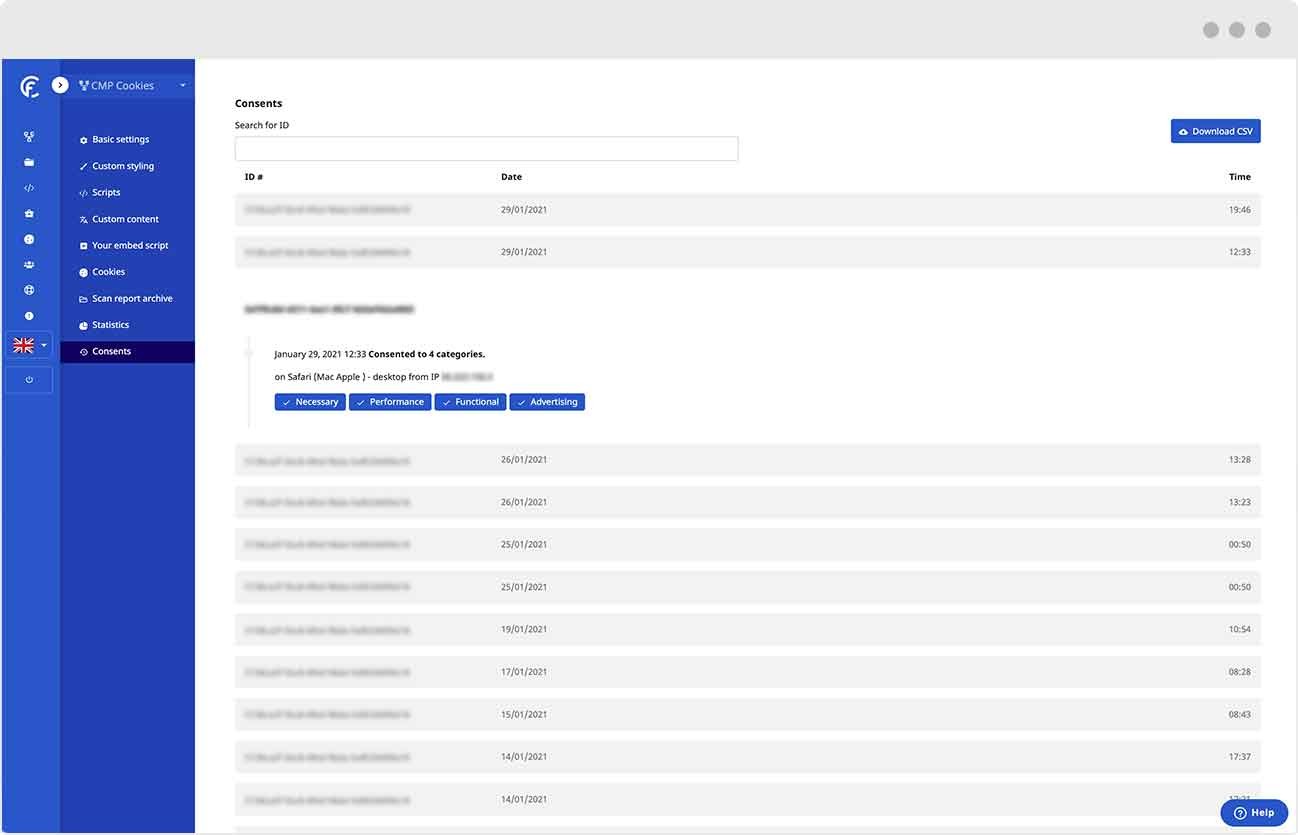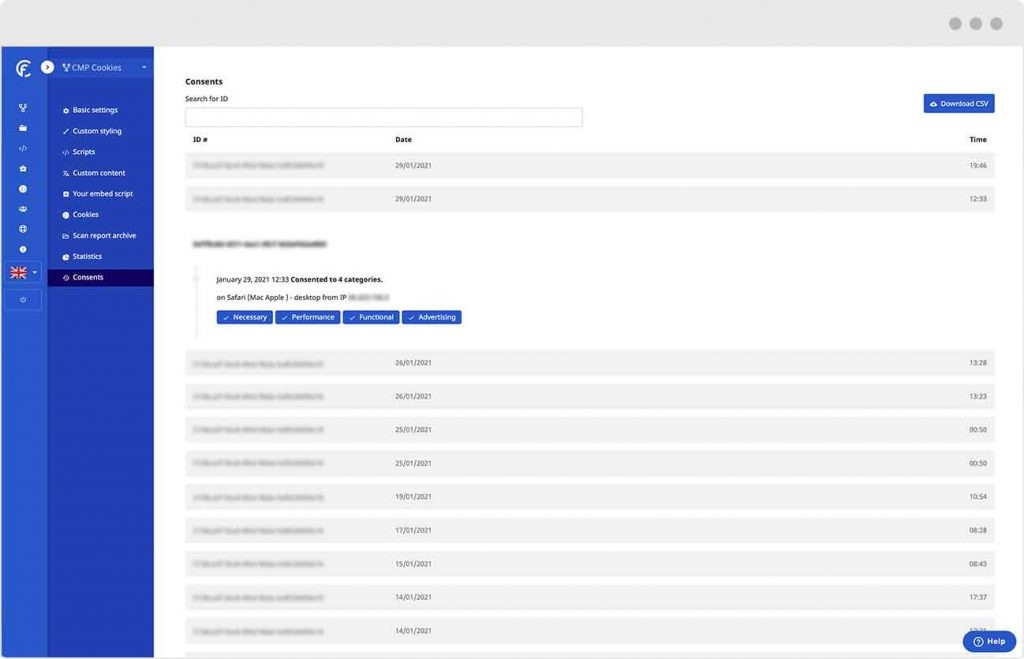 Getting Consent Should Be the Only Goal of your CMP – CookieYes Alternative
Searching for the best consent management platform can be difficult, especially considering that many CMPs offer a wide variety of features, tools, and solutions. However, your provider must have only one goal: to help your organization obtain consent.
As a CookieYes alternative, CookieFirst's only business purpose is to provide a solution that allows you to obtain consent from your users. Whether that consent is for cookies, third party scripts, or other tracking technology, the CMP should help facilitate that process.
When users visit your website, it should be easy for them to give their consent freely and clearly. There should be no doubt about what they are accepting or rejecting, and cookie walls that prevent users from accessing the site without consenting first do not comply with GDPR laws.
Choosing CookieFirst as a CookieYes alternative helps make this process transparent and seamless, as users can grant and revoke consent with ease.
Let's dive further into the requirement of consent by looking at two key components: granular consent and documented consent.
Are your an agency, web developer or another reseller?
Earn 30% commission, take a look at our
reseller model

 or contact us for numbers larger than 500 clients
Calculate your revenue
Granular Consent
Under current data privacy regulations like the GDPR, organizations that leverage third party scripts must obtain granular consent. There is a principle of minimalism that must be followed, though, so you should only ask for consent regarding scripts used on the site in question.
That complicates things, because how are you supposed to get approval for a large list of providers while following the sense of minimalism?
The short answer is to use CookieFirst as a CookieYes alternative. Our platform allows you to get granular consent while aligning with the principles of minimalism – without having to invest in a robust technological solution or drastically change your business processes.
Documented Consent
Another aspect of complying with privacy laws is to document consent. The organization will have the burden of proof to demonstrate that consent was obtained, so storing this information properly is essential.
It is not advised to store consent on the client-side – instead, your CookieYes alternative CMP should help you save these details on the server-side. However, GDPR requires you to store those consents on servers that are physically located in the EU. CookieFirst is an ideal alternative because our platform saves consent directly in data centers housed in Europe.
Similarly, your consent management platform should give you an option to save your data on-site. Flexibility here is key!
A Multicompatible CMP: CookieYes Alternative
CookieFirst is a multi-compatible CMP that is the ideal alternative to CookieYes. It is designed to work with any website platform or CMS – all you need is a website that allows you to place a code snippet after the body tag.
This adds to the agility and flexibility of the consent management platform since the data security landscape is continuously evolving. By ensuring the platform is multi-compatible and can be adjusted to various sites, you can stay ahead of changes in regulations.
Adaptable UX/UI Design
As an alternative to CookieYes, CookieFirst is a consent management platform that offers an adaptable UX and UI design. Our tools allow you to customize the look and feel of the front end of the platform, so you can seamlessly integrate consent into your website design.
Doing so ensures that users have an optimized and streamlined experience – no one likes a disruptive pop-up that doesn't match the website or seems completely out of place! When users are not annoyed by banners and setting panels, they will have a better experience with your brand overall.
You can't get out of asking for consent for cookies, scripts, and other tracking technology, but the least you can do is use a CMP that makes it look like it's supposed to be there.

Co
okieFirst
Get consent before loading third party tracking scripts
CookieFirst aims to make ePrivacy and GDPR compliance easy and quick to implement. The CookieFirst platform offers third-party script and consent management, statistics, periodic cookie scans, automated cookie declaration, banner customization, multiple language options, and more. Avoid large fines and get consent before loading third-party tracking scripts — try CookieFirst!