Axeptio Alternative for cookie consent management | 
CookieFirst
However, that means you need a technical solution that can help you obtain and document the explicit consent of your users. They must have the option to adjust or revoke their consent at any time, and the privacy landscape is constantly changing and evolving. This can lead to a high level of maintenance, so the best solution is to choose a dedicated consent management platform (CMP) like CookieFirst.
Obtaining Consent with the
CookieFirst

CMP, an Axeptio Alternative
When you are looking for an Axeptio alternative, the key is to find a CMP that has one purpose: to help your organization obtain and manage consent.
If a consent management platform has too many other objectives and doesn't solely focus on this objective, there is a risk that the tool is not transparent or trustworthy. Think about it this way – a CMP with other goals outside of this could mean that they will use the consent data to pursue those purposes instead. This simply cannot be allowed as it affects the integrity of the CMP.
CookieFirst is an Axeptio alternative that only focuses on obtaining and managing consent. Likewise, the tool recognizes that users should have the ability to provide consent in a clear and informed way – meaning they have the option to accept or reject consent.
Platforms that implement a cookie wall that essentially forces the user to consent to data collection if they wish to interact with the site are not compliant. CookieFirst will work with your organization to develop a process that is seamless and complies with all privacy regulations.
An Axeptio Alternative for Third-Party Scripts
If you need an Axeptio alternative for loading third-party scripts and setting cookies, look no further than CookieFirst. Our CMP ensures that you can make the management of third-party scripts easy and clear – without forcing you to compromise on the user experience.
While cookie consent is essential for a CMP, the tool must also include features that address plug-ins, embedded content, and tags. The specifics of the type of consent needed will vary based on factors like where the data will be transferred and the area of jurisdiction, so the platform will need to manage this as well.
For example, websites must obtain consent if scripts are used to transfer data from European users to the U.S. You can only load these scripts after getting a valid opt-in – and if the user opts out, the CMP must ensure that they do not run.
Your CMP platform must offer granular consent to comply with privacy regulations. The CookieFirst CMP allows users to toggle their consent and keeps the principle of minimalism in mind. Per the principles of minimalism, you should only obtain consent for third-party scripts that are present in the domain – and our consent management platform does just that.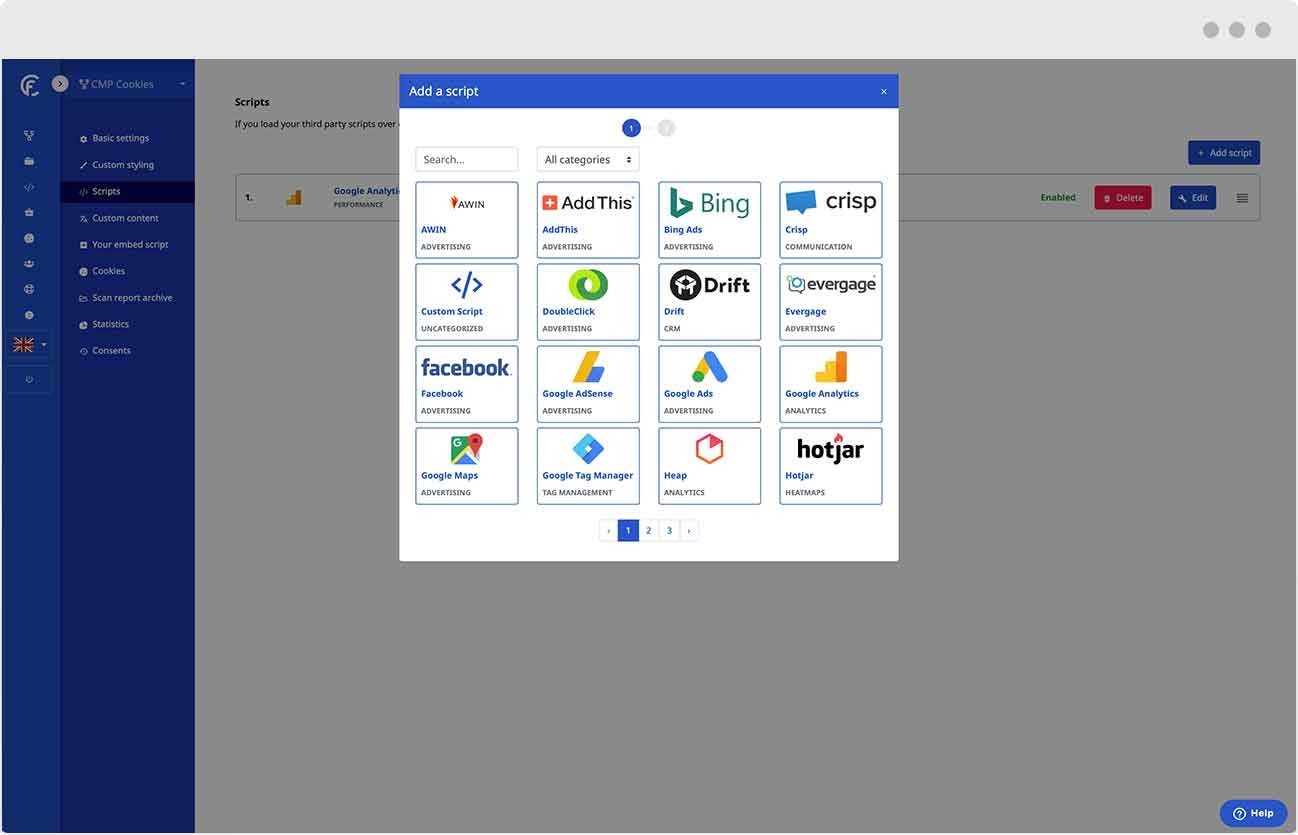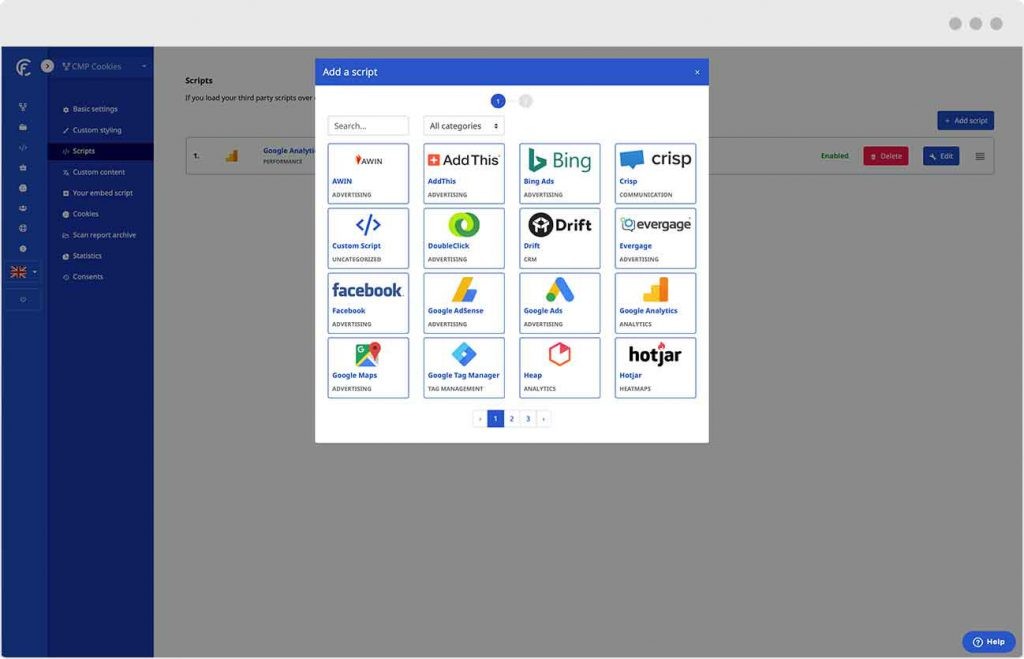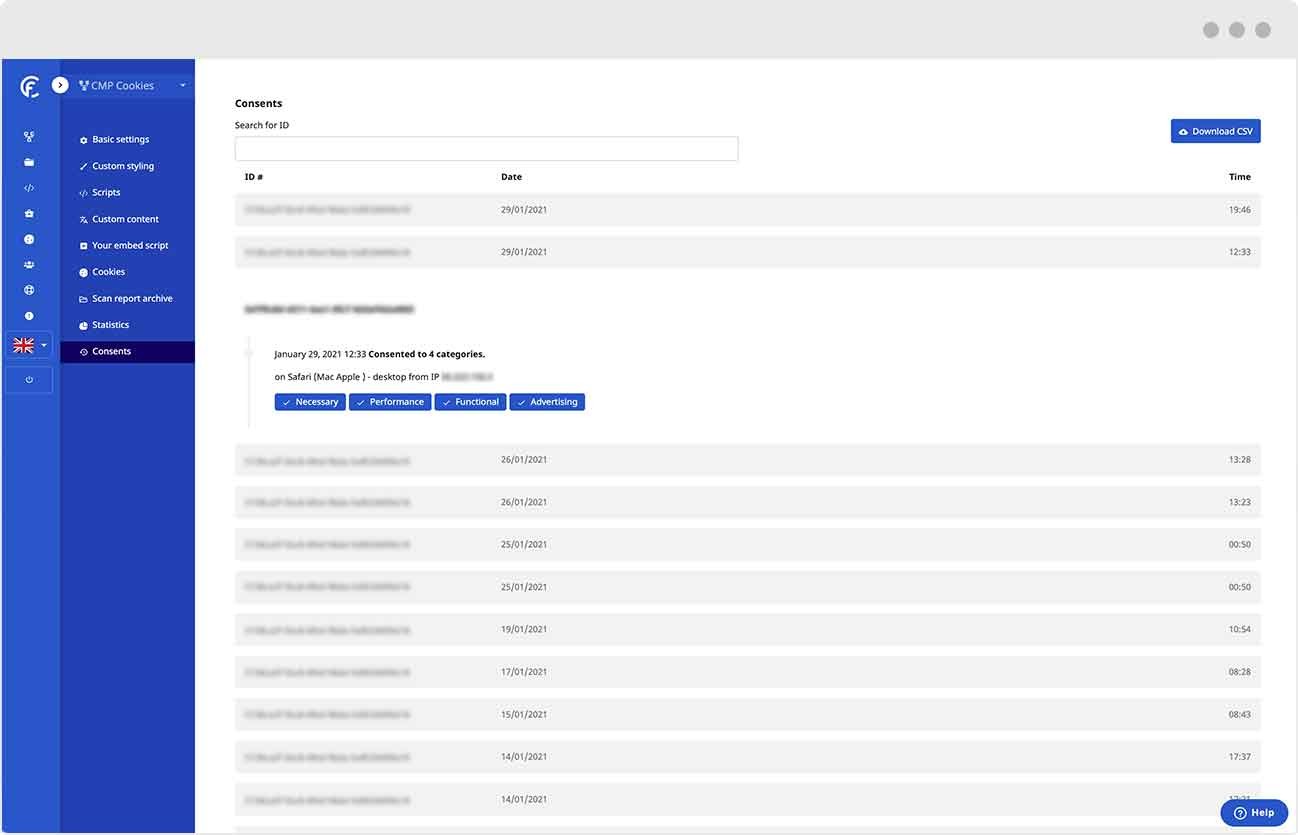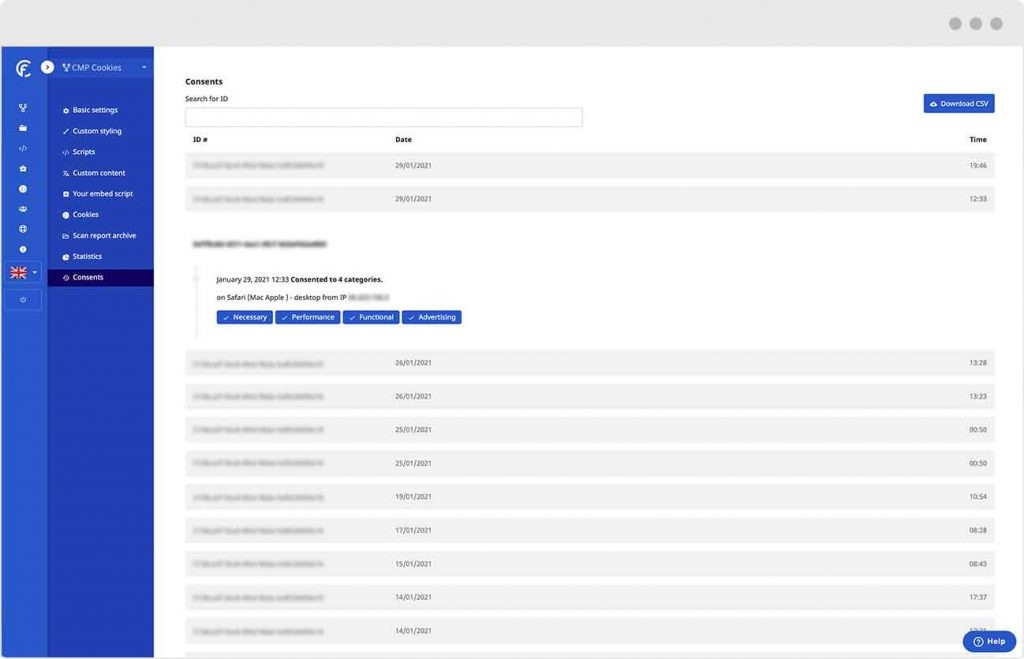 An Automated and Embeddable Cookie Policy
As an Axeptio alternative, CookieFirst allows you to develop a cookie policy that updates automatically. The cookie table updates automatically, so you can embed it directly within your privacy policy for maximum efficiency.
If you prefer to create a separate page for your cookie policy that works too. All you will need to do is embed the code on a page dedicated solely to your cookie policy. These features make it easy to update your policies as regulations and your data needs change – you no longer have to do this manually!
Privacy By Design: Axeptio Alternative
When you choose a consent management platform, you must be wary of the risk that the wrong partner could become a data-hogging third-party itself. The best way to mitigate this risk is to ensure that the data is separately stored while processing.
Doing this ensures that the CMP cannot match various consents belonging to one user across websites – as that would be considered profiling and would require its own consent. CookieFirst is an alternative to Axeptio that implements privacy by design!
Are your an agency, web developer or another reseller?
Earn 30% commission, take a look at our
reseller model

 or contact us for numbers larger than 500 clients
Calculate your revenue
An Axeptio Alternative That Offers Seamless UI Design
A proper consent management platform also provides a seamless user experience and allows your organization to customize the user interface design. CookieFirst is an ideal alternative to Axeptio as it offers a broad range of features for visual customization.
Remember that although compliance is important, you must find a way to do so that doesn't interrupt the user's experience. You don't want to annoy them with consistent banners or popups that seem out of place.
With CookieFirst's custom styling solutions, you can ensure that your frontend banners match your branding and integrate seamlessly into your website. By aligning the CMP with your corporate identity, your users will not be bothered by their existence.
A Flexible and Adaptable CMP
When it comes to the characteristics of a proper consent management platform, flexibility and adaptability are key. New privacy laws and regulations are introduced each day, and the global environment for compliance is only just beginning to take shape.
Your organization needs a CMP like CookieFirst that can help your consent policy evolve and adapt continuously. The goal is to avoid redesigning your internal processes each time an authority introduces a new rule or requirement.
CookieFirst has proven to be agile so that you can respond to these changes with ease and speed. That means you don't need to panic the next time you learn about a new verdict from a privacy authority!
Additionally, the CookieFirst CMP platform is Omni compatible. We understand that no two businesses are alike, so our tool is compatible with every type of website or CMS. As such, you can implement it across your platforms and reach all your users – while retaining the ability to add code snippets after the tag.

Co
okieFirst
Get consent before loading third party tracking scripts
CookieFirst aims to make ePrivacy and GDPR compliance easy and quick to implement. The CookieFirst platform offers third-party script and consent management, statistics, periodic cookie scans, automated cookie declaration, banner customization, multiple language options, and more. Avoid large fines and get consent before loading third-party tracking scripts — try CookieFirst!