Cookie consent for your website
You can try the CookieFirst platform for cookie consent management for free for two weeks, (also the paid plans) without having to fill in any payment details. During this free trial you can check out our cookie consent features that will help you in making your website compliant with the cookie laws.
Do I actually need cookie consent on my website?
Cookie consent is one of the major aspects of international data protection laws and regulations that are monitored by data protection authorities. These authorities can be national or international, covering an entire continent or legal territory. As these exact cookie consent implementation requirements can differ from country to country the CookieFirst consent management platform offers a variety of features to make websites compliant with the cookie laws.
The most important thing that these privacy laws and data protection laws tend to regulate is the protection of personal data. It is meant to protect the website visitor's privacy. As more and more personal information is being used for other purposes than just being able to contact you as you have explicitly requested, these privacy laws are becoming more important than ever before.
These global privacy laws, like the GDPR, LGPD, CCPA and others dictate the legal bases for processing and collecting personal data. The most important legal basis for this is actually consent from the user / visitor or better, the data subject.
This is why you would need a cookie consent management platform like CookieFirst, also in order to be able to prove that a particular user has given consent for the transfer of his personal data.
CookieFirst is one on the major global cookie consent management platforms with clients literally all over the world and in every continent.
If you would like to have one of our experts to take a look at your specific needs, please contact us directly through our contact page.
CookieFirst consent manager | Take the 2 week free trial
Take a 2 week free trial for our paid plans or create a free account …
Create an account
View our plans
Cookie Consent – Core features of the
CookieFirst

CMP for website compliance
3rd Party script management
Cookies are set by scripts. If you use third-party scripts on your website like Google Ads, Hotjar or other third-party tracking technologies, you need make sure that these scripts will only be executed if a website visitor has given consent for executing them and enable data transfer to third-party servers. CookieFirst provides multiple ways to manage and block these third-party services from executing before cookie consent has been given. You can use our own tag manager in your CookieFirst account, but you can also alter hard coded scripts in your website to connect with our tool.
Also, if you already use Google Tag Manager for managing your third-party scripts, you can integrate CookieFirst in GTM, so you have all your third-party scripts in one place. In this way you can offer cookie consent for all third-party services that you use on your website.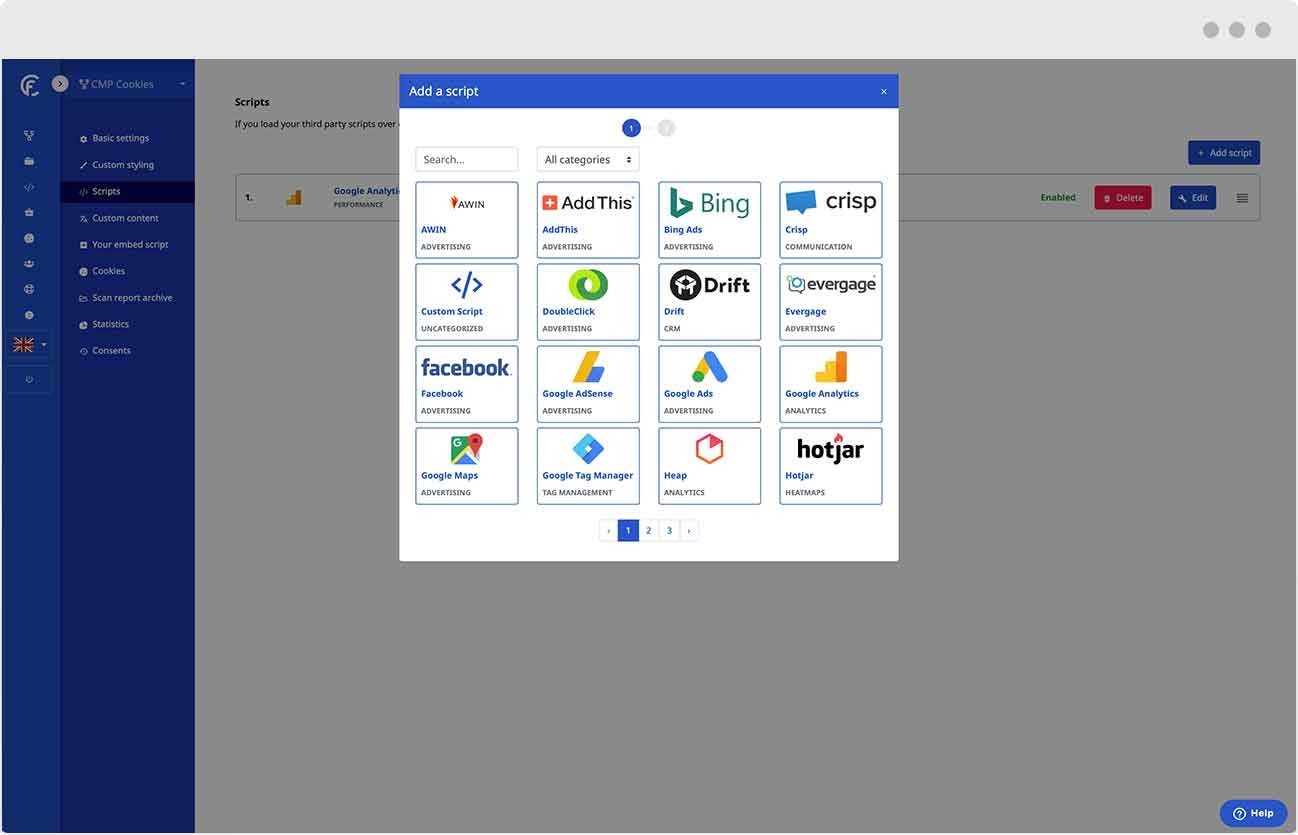 Blocking third-party scripts and cookies
Use one of our 4 ways to block third-party scripts (like Google Analytics, Google Ads, YouTube, Facebook etc.) from executing.
Cookie Scan
When you start configuring a domain instance in your CookieFirst account, you can fill in the url of your live site / domain. Right after saving settings our cookie scanner will go through your live domain to scan for cookies that are present on the site. The scanner matches these cookies to our cookie database with all the classifications and descriptions and then a cookie list is created. By default, this list is updated by a monthly scan. From each scan you will receive a cookie scan report in your mailbox. The standard scan interval is monthly, but if you would like to have a different cookie scan interval, please contact us.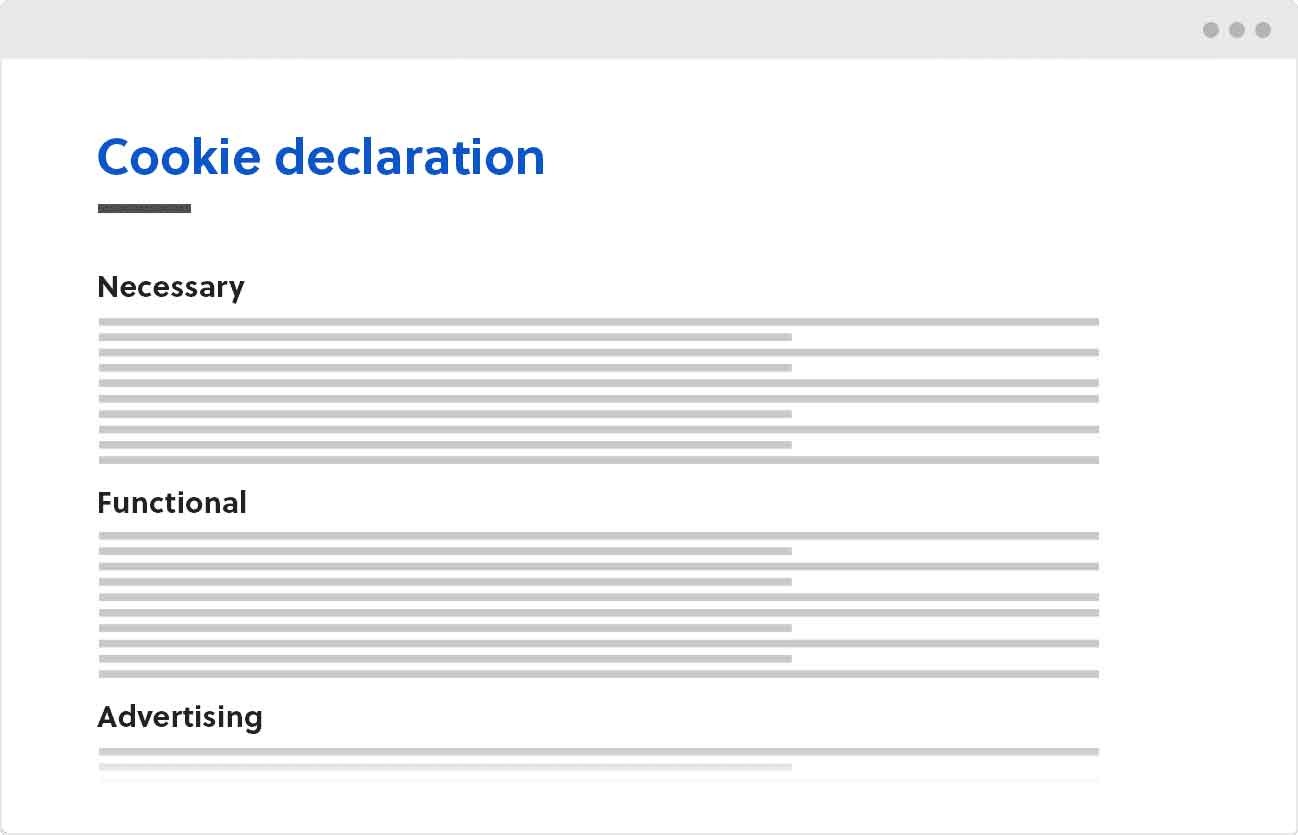 Cookie policy generator
Our cookie policy generator creates a standard cookie policy, which can be managed from your CookieFirst account. We offer the cookie policy in 41 languages, just as the banner and preferences panel. You can edit the cookie policy text for each language if you would like.
When you are done editing, you can display the cookie policy by placing an embed script on a dedicated cookie policy page within your website. It will automatically show the right language for a visitor, with the top selected language as a fallback language. (if the user has a browser language other than the 44 languages we currently support)
Cookie consent audit trail
Cookie consent of users is being stored in secure databases by UUID (unique user ID). Whenever a user gives consent or changes his cookie consent these actions are being logged. From this, an audit trail is being created. (all the actions that a user does with the cookie banner are added to a timeline) The Plus plan has a visual representation, an audit trail, of these user actions. Also, it has a direct lookup of the UUID's that gave their cookie consent on your domain including a CSV download of all consents. The Basic plan only has the cookie consent CSV download. You can select a time frame for which you can download the cookie consent data.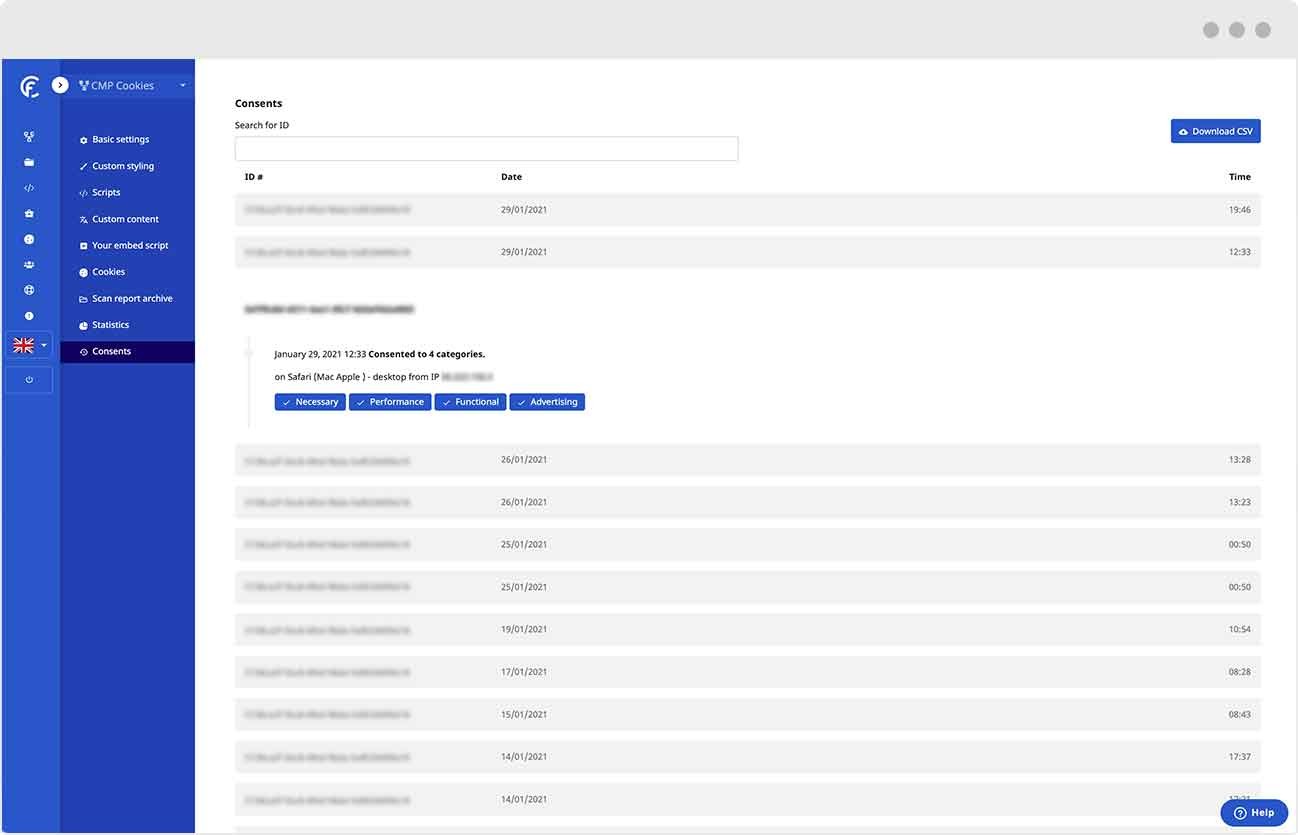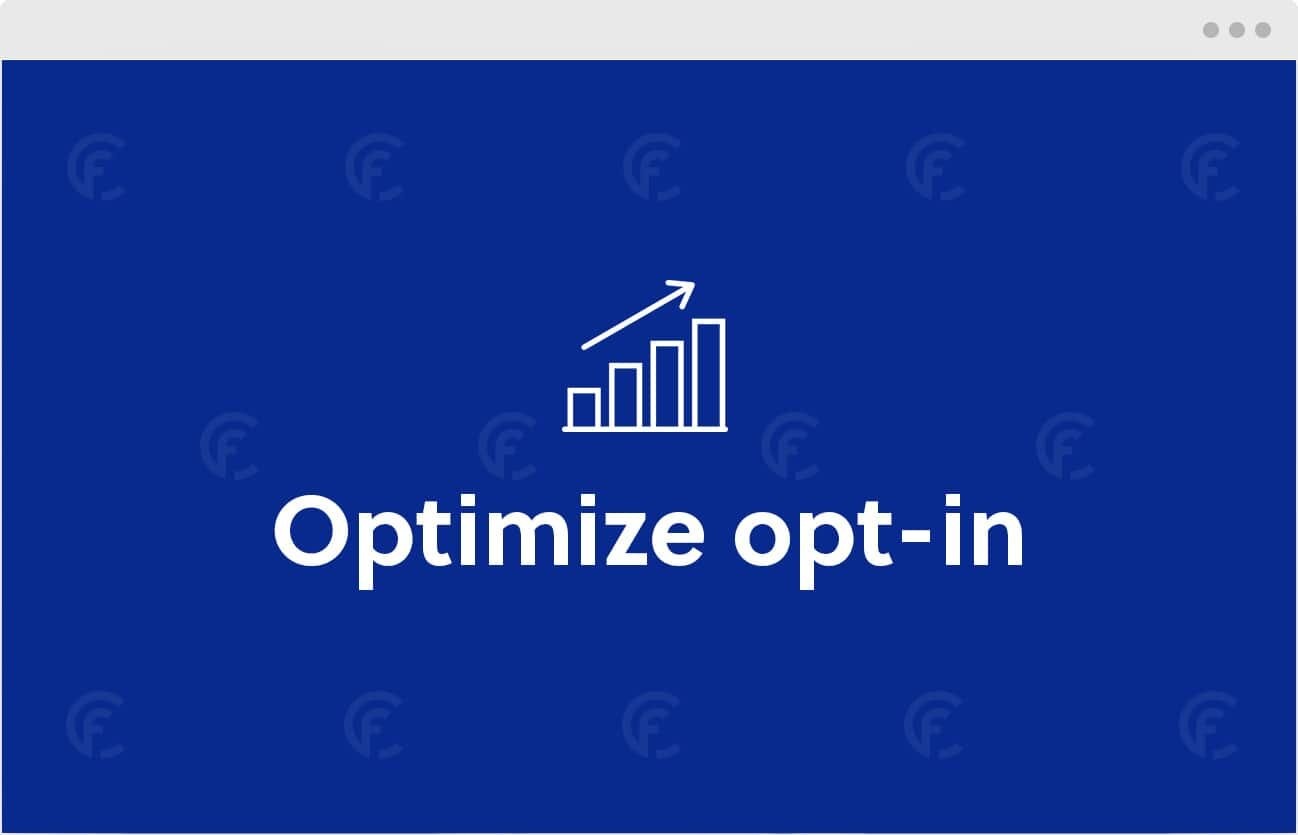 Re-Consent – Optimize your opt-in rate
The CookieFirst cookie consent manager offers a feature that enables you to optimize your opt-in rates. You can set a goal for which cookie categories you need consent from a user, and you can set an interval for showing the cookie banner again (7 days, 14 days, 30 days or 45 days), until the specific user has consented to your desired cookie categories.
A great way to optimize your opt-in rates for specific categories like marketing and advertising.
Google consent mode
Google is trying to meet requirements of both marketers and compliance officers. With Google consent mode your site can still gather 'aggregate' performance data for Google Analytics (GDPR compliant) and conversion measurement for Google Ads, while still being compliant with the cookie laws. CookieFirst offers an integration for its cookie consent tool with Google Consent Mode.
You can read more about this in our support articles about Google Consent Mode.
Cookie Consent Banner / preferences panel customization
Cookie consent banners are often not easily customizable and don't integrate nicely with the styling or corporate identity of websites. We as CookieFirst have made it one of our goals to offer the most flexible and customizable cookie consent banners and consent preference panels on the market. We offer a lot of custom options; you can edit styles as colors, background colors, corner styles, background shadows, font-family. But also cookie banner layout in terms of button placement, cookie banner position and individual button positions. Finally you can also edit all the default texts on the cookie banner, on the preferences panel, on the buttons and also the for the generated cookie policy. All of these texts are editable for every language that you add.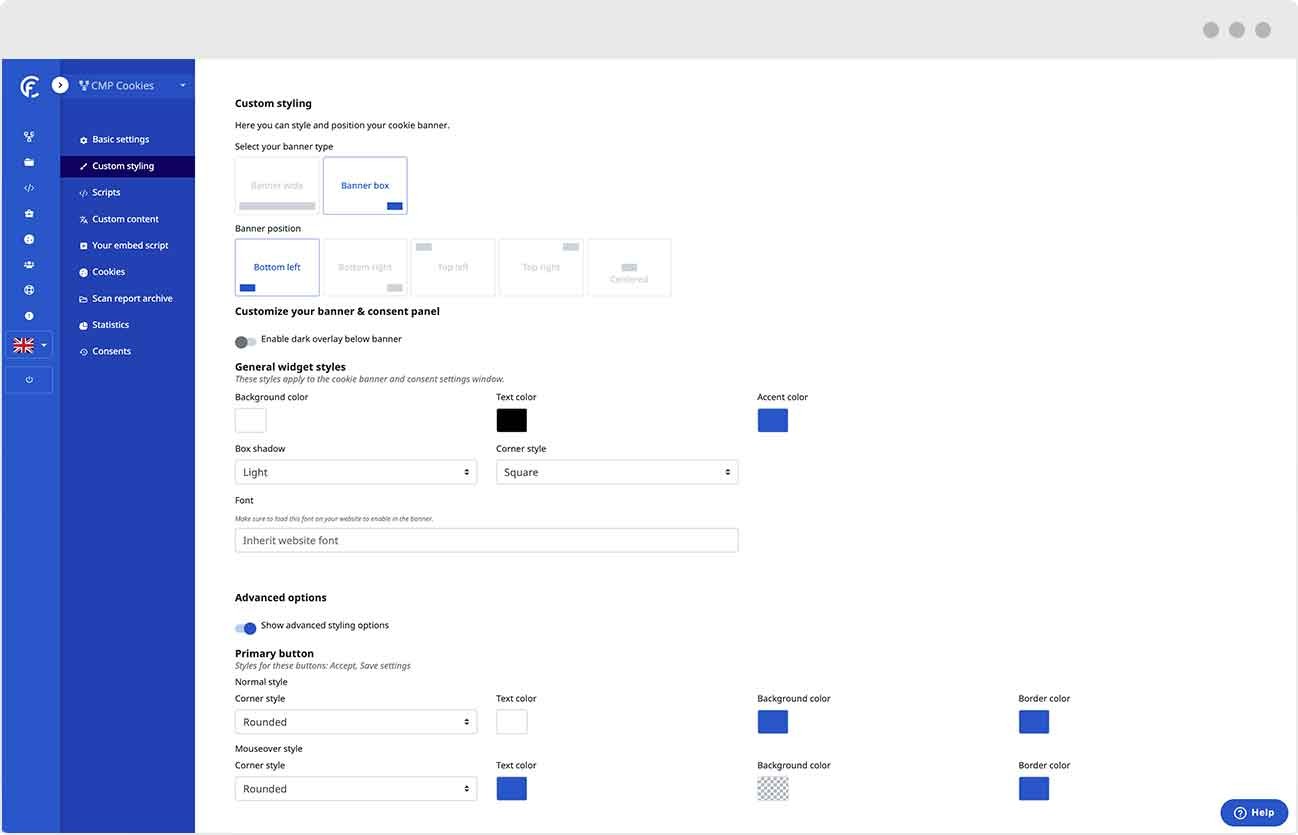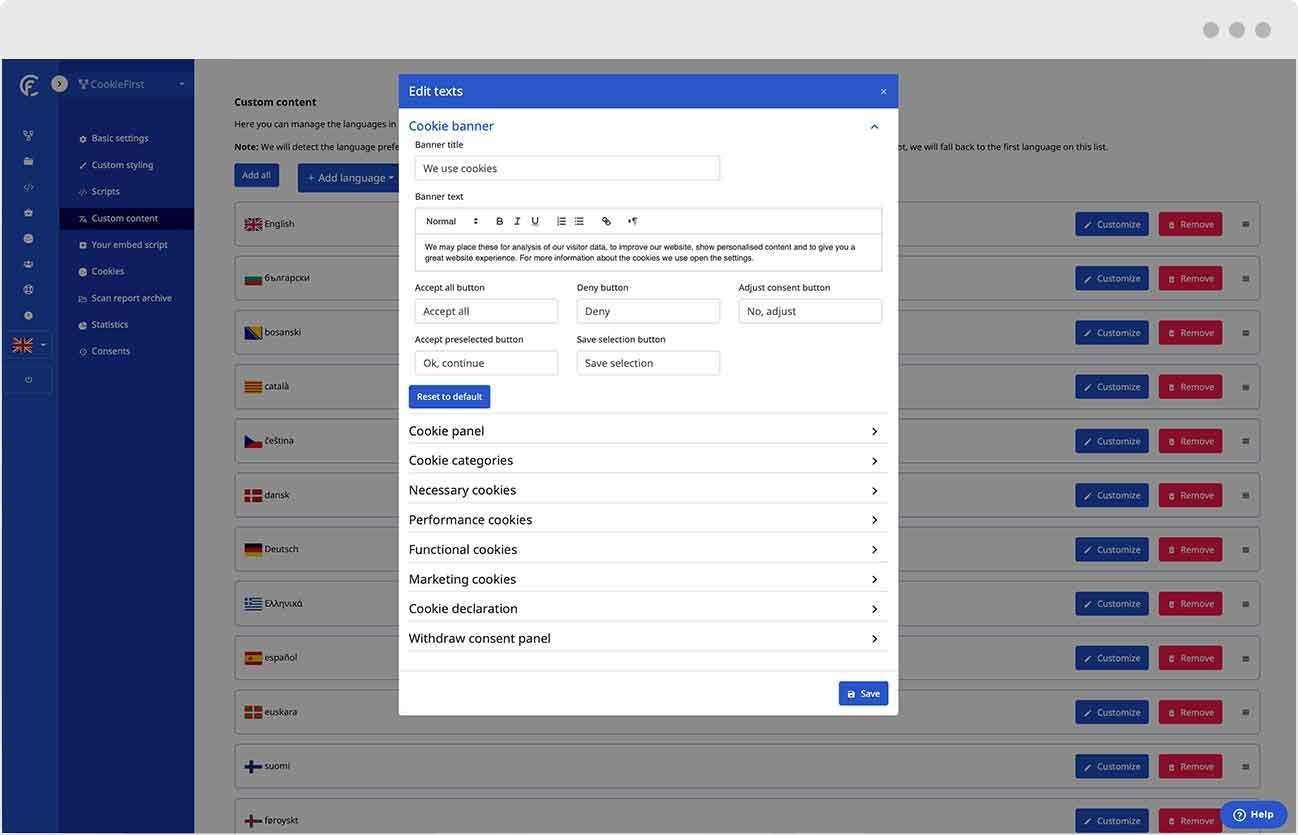 Cookie consent in 40+ languages
Because cookie consent regulations are part of international privacy laws and data protection laws, and your website might attract users from multiple countries, it is important to have your cookie consent tool support as many languages as possible. So that every user of your website can be addressed in a language that he or she understands. By default our cookie banner script recognizes the user's browser language and will show the language accordingly. If there is a visitor with a language that is not supported by our system or if you did not add that specific language in your CookieFirst account, the fallback language will be shown. Also you can disable the automatic language detection if needed. We currently support over 40 languages. We keep adding new languages all the time, and even on request.
Javascript API
Our Javascript API allows you to develop specific actions within your websites for custom cookie consent management. With the Javascript API and the downloadable cookie banner boilerplate you, or your developer could even build your own cookie banner from scratch.
More information on this subject you can find here in our support article about our Cookie Consent Javascript API.
Are your an agency, web developer or another reseller?
Earn 30% commission, take a look at our
reseller model

 or contact us for numbers larger than 500 clients
Calculate your revenue
Other cookie consent features
In the above we talked about the main features that CookieFirst currently offers for cookie consent. As the international rules and regulations for privacy and data protection (GDPR, ePrivacy, CCPA, LGPD etcetera) are constantly changing, so are the cookie consent features that our platform offers. We are always on the lookout for changes in the cookie laws so we can adapt to them and offer new ways for you to stay compliant but also to offer the best opt-in rates for marketeers. Below we have listed a couple of other cookie consent features that we offer with the CookieFirst CMP.
Change consent in multiple ways
When a user has given consent, according to most data protection regulations, the user must be able to change his or her cookie consent preferences. Implementation of the CookieFirst platform offers multiple ways for users to change or revoke their given consent. You can enable a floating button in the corner of the browser window, that appears after the user has given consent. But also, you can create a link in your website, in the footer for example, by which the user can trigger the cookie consent preferences panel, and change their consent settings. Apart from this, in the generated cookie policy, there are two buttons for revoking or changing cookie consent.
Cookie Consent lifetime
It depends with which privacy regulation or data protection law you want to be compliant with, how long cookie consent is valid once given. Even certain country specific data protection authorities (like the French CINIL) require different lifetime of cookie consent. By default, our system asks a user for consent again after one year. The user will then be confronted with the cookie consent banner again. But in your domain settings you can change this consent lifetime to 3, 6, or 9 months. (at the moment of this writing)
Override cookie classifications and descriptions
When our cookie scanner goes to work, it finds the cookies that are present on your website. These are then matched with our cookie database. From this cookie scan, a cookie list is created that is displayed in your domain settings (of your CookieFirst account) and a scan report is being sent to you by email. Also, this list can be viewed in the consent preferences panel and on the generated cookie policy. In our cookie data base we have tens of thousands of cookie names stored with their classification and descriptions, in 31 languages. If needed, you can override these descriptions and classifications. Because in some cases, with different usage of a certain cookie, this cookie can be classified in a different way. A welcome feature when tailoring your cookie consent system.
Scan reports archive
The CookieFirst CMP offers a scan report archive, so you can take a look back in time through the results of past cookie scans. You can see immediately how the number of cookies that were found progresses through time. These scan report you also receive by email, but you can also access them in your CookieFirst account and download them in 6 languages. (at the moment of this writing)
Copy configurations to other domains
There are lots of companies or organizations out there with more than one web domain. Some have even more than fifty or even more than a hundred. For flexibility, we offer the cookie consent configurations per domain. It would be a lot of work and take a lot of time when you have lots of domains that need to be set up. Good thing we have added a 'copy settings' feature to the platform. At this moment we have about five main settings categories. Once you have set up configurations for one domain, you can then choose which settings you wish to copy, and to which domains these settings have to be copied. This comes in very handy when you need cookie consent for multiple websites.
Add multiple development urls
While developing or working on a website it is normal to have a web project go through multiple urls / stages before eventually deploying to production or 'live'. Development, staging, testing, these phases might require multiple urls that need to be 'whitelisted' in order to display, configure and test the cookie consent banner and preferences panel. By default we offer one extra url for testing or configuring our cookie consent manager. We offer the option to enable more of these urls if you need them. This is upon request. You can contact us via email or through the contact form.
User role management
We identify multiple types of users for managing a cookie consent account. In case of a regular client, we have the main / root user that initially has created the account, and sub users that can be invited or created by the main user. These sub users could for example be team members of a marketing department, from a development team or form a legal team.
In case of a reseller, there is an additional and separate user level, which handles additional users per client. These sub users of clients only have access to the domains that are assigned to this particular client. So resellers should be careful with assigning domains and users to clients.
CookieFirst
Get consent before loading third party tracking scripts
CookieFirst aims to make ePrivacy and GDPR compliance easy and quick to implement. The CookieFirst platform offers third-party script and consent management, statistics, periodic cookie scans, automated cookie declaration, banner customization, multiple language options, and more. Avoid large fines and get consent before loading third-party tracking scripts — try CookieFirst!