Google Analytics GDPR & 
CookieFirst
When it comes to sourcing and analyzing data, Google Analytics is one of the most accessible and popular tools out there. It's leveraged by numerous businesses, professionals and organizations to obtain insight into their website's performance, and how it affects users who visit it.
One thing that has become a relevant concern in this regard however is the use of Google Analytics in compliance with GDPR. Is it compliant? And if not, what can be done to make it so?
In this article, we'll go into detail on Google Analytics, cookies, the EU's GDPR and what it means for your website.
A Quick Refresh On GDPR And What It Means For You
The General Data Protection Regulation (GDPR) is a legal regulatory framework that provides guidelines for the acquisition and processing of personal data from people who live within the European Union (EU).
It went into effect on May 25, 2018, and was designed to create a unifying regulation that synchronizes Europe's various national data privacy laws. Its ultimate goal is to create a more cohesive system for data privacy within the region, supporting those within European Union member nations in safeguarding their online privacy.
While the GDPR is localized in its protections to countries of the European Union, its provisions apply to all businesses and organizations that handle the personal data of individuals within the EU. This means that if your website has users from within the EU, you need to be in compliance with these regulations, regardless of where your website or operations are located.
The Danger Of Not Complying With The GDPR
Non-compliance with the GDPR can result in significant penalties. This can include fines of up to €20 million (about $22.4 million USD), or 4% of your global annual revenue from the previous year, whichever is greater.
These penalties are clearly stated and in place to enforce adherence to the GDPR's provisions, meaning that if you process the personal data of individuals within the EU without their explicit consent, you could be subject to these fines.
Is Google Analytics GDPR Compliant?
Google Analytics is not currently GDPR-compliant by default. The way the tool currently collects and processes user data does not meet the GDPR's strict consent requirements.
This means that if you are using Google Analytics on your website, you are not in compliance with GDPR regulations.
This is because it uses cookies to collect and store data about website visitors, such as:
IP addresses
Unique IDs
ClientIDs
Under GDPR, all data that can either be used directly or in combination with other data to identify a natural person must be treated as personal data. This means that any data collected by Google Analytics (including IP addresses) could be considered personal data, and that it is protected for those within the EU by GDPR.
Can You Use Google Analytics And Remain GDPR Compliant?
The answer to this question is a bit complicated. On one hand, Google Analytics can absolutely be used in a way that adheres to the GDPR's provisions. On the other hand, there's also a chance that it may not be fully compliant.
This is because the GDPR stipulates a number of specific requirements that need to be met in order for data processing to be considered lawful. These include obtaining explicit consent from individuals before their personal data can be processed, providing detailed information about how their data will be used, and ensuring that individuals have the right to access, amend and delete their data.
Google Analytics currently does not meet all of these requirements by default. However, it is possible for businesses to make changes to their Google Analytics setup in order to bring it into compliance.
What it comes down to is reworking things on your site to meet the provisions of GDPR and what it requires in order for you to obtain personal user data.
Making Your Use Of Google Analytics GDPR Compliant
Essentially, the GDPR states that in order to obtain personal data in compliance with regulations, websites and those behind them must acquire the explicit content of their users to do so. This applies to Google Analytics, which as its primary function serves to collect and analyze user data on behalf of the websites it's used on.
The fix for this is actually quite straightforward – obtain your users' consent prior to using their data in Google Analytics. This can be done in a number of ways, but typically it will require an agreement or checkbox on your site that users must agree to before their data is processed by Google Analytics. Pretty simple right? One problem though, how do you get Google Analytics to actually stop tracking this data? The solution is a Consent Management Platform.
Consent Management Platforms (CMP)
CMPs are designed to handle and automate the process of obtaining consent from users for the collection and use of their data. There are a number of these platforms on the market, and most will integrate with Google Analytics to stop it from tracking any personal data that falls under GDPR compliance.
A Cookie Management Platform can serve a lot of functions, including:
Giving users the ability to see, manage and delete their consent
Allowing you to create granular consent forms for different types of data processing
Setting user preferences for cookies and other tracking technologies
Helping you track user engagement with your cookie and consent policies
If you're looking for a straightforward way to ensure your Google Analytics usage is GDPR compliant, a Consent Management Platform is the way to go.
Google Consent Mode
You can also use Google's most recent solution, Google Consent Mode, which allows you to track conversions and obtain analytical insights while remaining fully compliant with GDPR guidelines. It's built to work with Google Analytics, Google Ads and Google Tag Manager (GTM).
Google Consent Mode interacts with your site's tags and scripts to determine if the user has given their consent for their data to be processed. If not, it simply blocks the collection of that data. This process is completely automated, and you can choose which tags are blocked or allowed based on your users' consent.
Configuring Google Consent Mode is a bit more technical than using a CMP, but if you're comfortable with working with Google Tag Manager it's not too difficult to set up.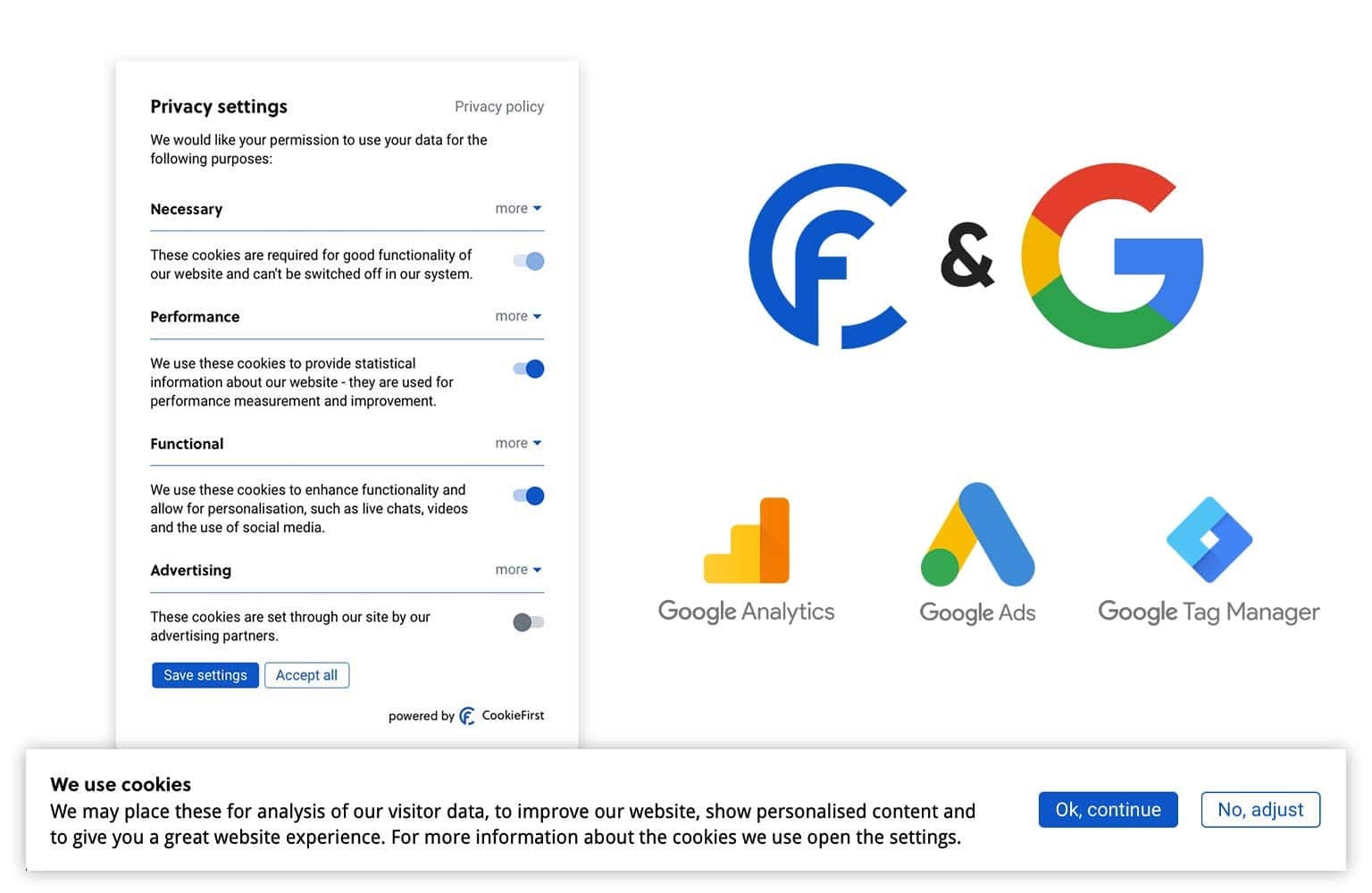 Are your an agency, webdesigner or another reseller?
Earn 30% commission, take a look at our
reseller model

 or contact us for numbers larger than 500 clients
Calculate your revenue
Taking The Steps To GDPR Compliance while using Google Analytics
You already know that when using tools like Google Analytics on your website, you must first acquire the explicit consent of end-users. There are however a few technical steps you'll need to review if you want to make sure you're completely in line with GDPR provisions.
To comply with EU GDPR, Google Analytics – its cookies, trackers, and data tools – you'll need to address the following:
Before you activate and start using Google Analytics cookies on your website, seek and obtain end-user consent for every visitor.
Set each of your Google Analytics cookies to only activate after they have received explicit user consent.
Provide clear and concise information to users through your website's cookie policy regarding the details of all the Google Analytics cookies you use. This should include technical details, their provider, purpose and duration. Outlining this in an effective manner is important, as consent is only considered valid under the GDPR if users are given an informed choice.
Compile comprehensive information about all Google Analytics cookies on your domain and what personal data your website processes in your website's privacy policy.
In your Google Analytics account, make sure that IP anonymization is turned on and that it uses pseudonymous identifiers.
The compliance process will vary slightly depending on how you use Google Analytics and what type of data you collect. Google has also come out with an updated version of its Terms of Service which reflect these changes and provide more information on how you can become GDPR compliant using its tools.
If you're unsure of what needs to be done in order to bring your website into compliance, it's best to consult with an attorney or other professional who specializes in GDPR.
Wrapping Things Up
Now that you understand a little more about GDPR and what it means for your website, you can take the necessary steps to ensure your site is compliant. This includes adapting how you use Google Analytics so that it obtains explicit consent from users prior to collecting any personal data.
While these steps may seem like a lot of work, they're actually quite straightforward and easy to implement. By taking the time to make sure your website is GDPR compliant, you can ensure that you're not only protecting your users' data, but also avoiding any potential penalties that could come from non-compliance.
Google Analytics is a powerful tool that can provide a wealth of information about how people interact with your website. By taking steps to make it GDPR compliant, you can ensure that you're using it in a way that respects the privacy of your users and protects their data.
CookieFirst
Get consent before loading third party tracking scripts
CookieFirst aims to make LGPD and GDPR compliance easy and quick to implement. The CookieFirst platform offers third-party script and consent management, statistics, periodic cookie scans, automated cookie declaration, banner customization, multiple language options, and more. Avoid large fines and get consent before loading third-party tracking scripts — try CookieFirst!