Google Consent Mode & 
CookieFirst
The CookieFirst consent management platform integrates with the new Google Consent Mode. Get started with our super simple implementation right away! Take a look here for our quick and easy implementation guide for Consent Mode.
Consent is becoming a more and more important part of the digital world. We need to find a new balance between online privacy on the one hand and the possibility of digital advertising on the other. Making digital presences sustainable and compliant with our CMP has been our mission from the start.
Before Google Consent Mode, sometimes analytics data got corrupted because consent had to be given to actually allow for measuring certain statistics. Google's Consent Mode in combination with the CookieFirst CMP enables you to get proper analytics and measure conversions while staying compliant to the data privacy regulations like the GDPR, ePrivacy and LGPD. Also when using Google Ads, Google Analytics or Google Tag Manager.
With Google Consent Mode you can make your website run these Google services on consent of your visitors. CookieFirst and Google Consent Mode integrate nicely and streamline your analytics and consent management in a quick solution. With our implementation guide you are up and running in no time.
What is Google Consent Mode and what could it mean for your organisation?
Google Consent Mode was launched by Google on September 3rd 2020, and the CookieFirst team is really ecstatic about it. Why, you ask? In short, what Google's Consent Mode does is enabling your marketing department to work with proper analytics data and conversions measurement and have a compliant consent management system in place.
It is basically a first step in solving the issues between marketing / advertising versus privacy, without breaking the digital economy. Just before now, the massive collection of personal data and the use of that data for targeted advertising triggered the urge for more privacy regulation. And that is what's happening. In almost every part of the world these data privacy regulations emerge and evolve. They make it harder for marketing and sales departments to make decisions when there is no proper data being collected.
The importance of data privacy has risen significantly since 2016. Consent for using personal data is required by almost every privacy regulation in the world. So almost every website owner and data controller needs a user's consent in order to process this data.
With Google Consent mode and CookieFirst combined we can build a better and more sustainable digital economy, away from the massive collection of personal data towards a more dynamic system based on the user's consent without damaging large parts of the digital economy.
Google Consent Mode, how does it work?
Let us explain consent mode some more. Consent Mode is actually an API that takes the consent status of your users into account when handling the behaviour of Google's scripts and tags that are used by your website or platform.
Two new tag settings are introduced by Google's Consent Mode. One handles cookie management for analytics and the other handles cookie management for advertisement.
analytics_storage

ad_storage
analytics_storage
Google Consent Mode regulates the behaviour of the analytics cookies in relation to user consent with this tag setting 'analytics storage'. It will make Google Analytics adjust the collection of data based on the consent of each visitor.
When users don't give consent for setting statistics cookies, your site still receives basic and non-identifying measurement data such as the following:
Timestamps of user visits on your site

User agent: see whether users landed on your site

Referrer: see how a user landed on your site

See if current or prior page in user's navigation has ad-click information in included in the URL

A random number for each page load
ad_storage
Google Consent Mode regulates the behaviour of marketing cookies on your site in relation to user consent with the tag setting 'ad_storage'. When a visitor does not consent to marketing or advertising cookies, Google's Consent Mode will adjust the handling of the Google tags that are related to marketing and will not use these cookies.
In this case, your site will still be able to display contextual advertising that is based on anonymous data. But it's not possible anymore to show the targeted advertising that is based on personal data if users don't give their consent for setting marketing cookies.
Aggregate level
What Google Consent Mode does is enabling your website to record and measure conversions on a more aggregate level, instead of the level of individual users. in this way you can stay GDPR compliant and still obtain insights in the performance of your online marketing efforts.
Also, Google's Consent Mode offers adapting the behaviour of Google tags based on the specific region where a certain user is from. So if certain cookies may be set without consent for US users but the same cookies would require consent from EU users, this is handled by Google Consent Mode.
What is supported by Google Consent Mode
Google Ads (Conversion Tracking / Remarketing)

Google Tag Manager

Google Analytics

Gtag

Conversion Linker

Floodlight
Combined, Google Consent Mode and CookieFirst make proper performance analytics and compliance at the same time, a lot easier than before.
When using Google Consent Mode you still need a consent management platform for your website because Google's Consent Mode is an open API. The CMP communicates the user's consent preferences of Gtag or Google Tag Manager that manage Google's services like Google Ads or Google Analytics.
CookieFirst is a profound consent management platform with a cookie scanner, third party script manager and consent manager that offers your website users a clear and solid consent solution.
The CookieFirst CMP integrates with Google Consent Mode in an easy way. You can read more about the implementation here.
Enable your users to give consent for each cookie category by displaying the CookieFirst consent banner and panel on your website.
No matter the size of your website, Google Consent Mode and CookieFirst together make cookie compliance quick and easy.
The GCM – CookieFirst combination works as follows:
The CookieFirst scanner uncovers the cookies that are present on your domain and categorizes them, displaying them in the preferences panel and in the automated cookie policy

Your users can give consent for usage of specific categories of cookies and third party scripts through a user friendly consent preferences banner and panel, which contains all necessary information

The consent state of users is passed on to Google Consent Mode and the tags behaviour of Google's services (Ads, Analytics, Tag Manager) is adjusted accordingly.
Your visitors give their consent through the CookieFirst CMP and the state of the consent is passed to Google. CookieFirst does not pass personal data to Google, only the state of the user's consent and if marketing or advertising cookies can be set for the specific user.
Using Google Consent Mode and CookieFirst, an example:
Your visitors arrive on your website and are offered the CookieFirst consent panel. Depending on your settings, both the banner and the panel show four categories of cookies for which consent can be given, and also the entire list of cookies with their descriptions.
The visitor chooses to give consent for setting necessary cookies, but decides not to give consent for analytics and advertising cookies. The CookieFirst CMP keeps these tracking scripts from activating cookies and honors the user's consent preferences.
Next step is for CookieFirst to send the consent state of the specific user to Google Consent Mode and based on this consent state the handling of data collection by Google Analytics, Google Tag Manager or Google Ads is being adjusted.
What it all comes down to is that using Google's Consent Mode and CookieFirst will enable you to keep receiving true analytics and performance data on an aggregate level while staying compliant with the privacy regulations. Your data-driven marketing efforts and programs still have reliable data for correct measurement and statistics, so your marketing department can make the right decisions.
Try Google Consent Mode and CookieFirst now – Make your online marketing accurate and compliant with our combined solution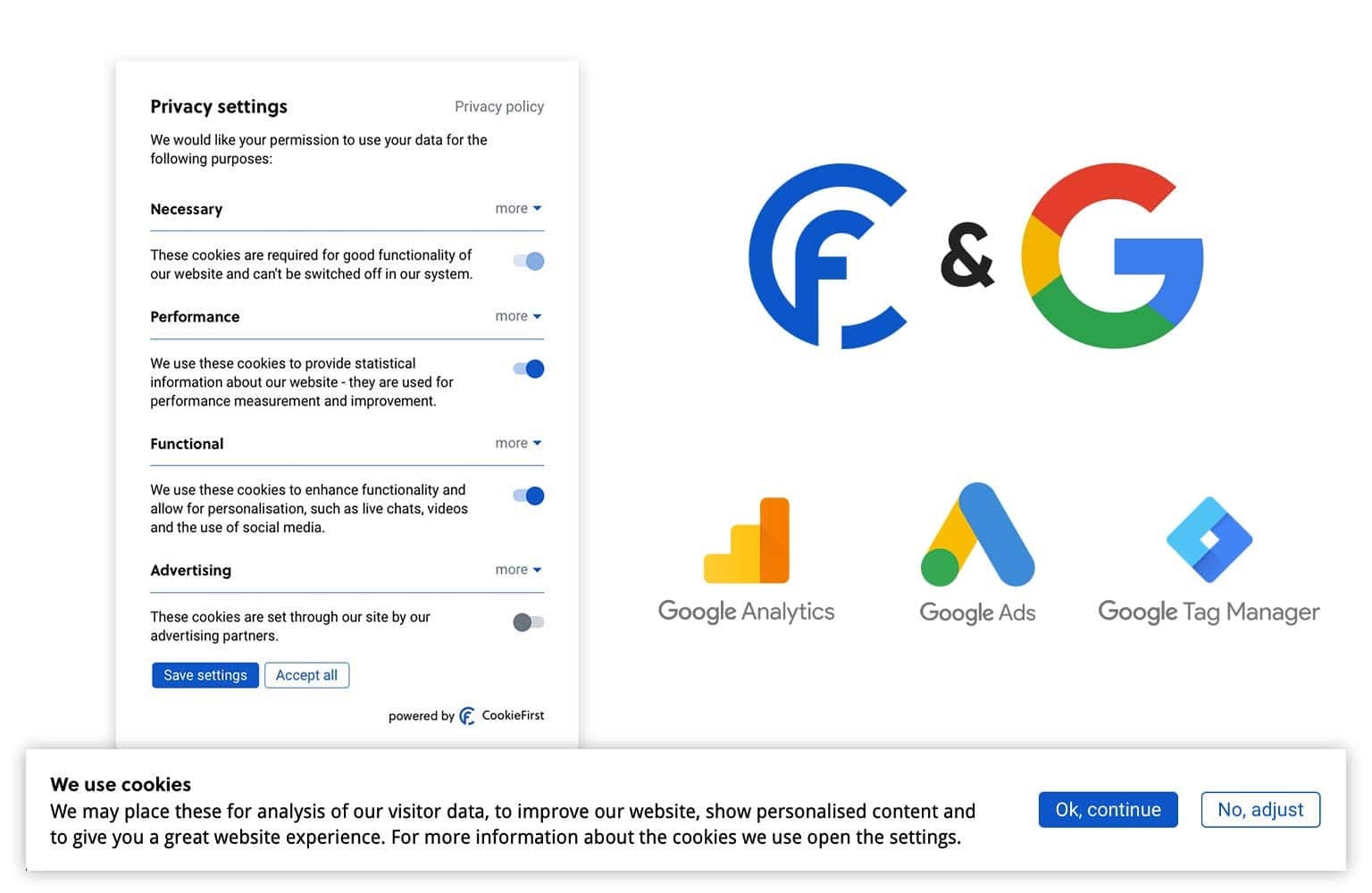 Are your an agency, webdesigner or another reseller?
Earn 30% commission, take a look at our
reseller model

 or contact us for numbers larger than 500 clients
Calculate your revenue
Privacy and true consent are the future, targeted advertising might come to an end
With this introduction of Google Consent Mode, the global tech giant brings more sustainability to the digital economy while being at the center of it.
The excess data collection has been going for many years and on a global scale. It's only the last few years that the public has become more aware of this. Data breaches and excess abuse of data is part of the global news almost every week in the last few years.
As a result, international privacy regulations and cookie laws are emerging all around the globe, to put this uncontrolled massive data harvesting to a halt.
Consent is now at the heart of the data protection law of the European Union, the GDPR.
Google Consent Mode and ad blocking
The CookieFirst CMP is an efficient and safe way to make websites compliant with the data privacy laws by empowering the end user with the control over enabling third party tracking and cookies, by consent.
But when visitors decide not to give consent for setting marketing, analytics or advertising cookies, their whole visiting information gets blocked from being recorded. And then you will be missing out on accurate global visitor information, like how many visitors you have had on certain webpages. This kind of information is crucial to lots of organisations.
What needed to be solved was the problem of making data privacy and digital advertising to coexist. This new normal is what until now not had been accomplished. And certainly not by the privacy focused browser or by ad blockers. It will be more likely that in the future digital advertising will move away from targeted to contextual advertising that is not based on the visitor's personal data.
Google helps us finding this new balance
Since Google launched their new Consent Mode on September 3rd 2020, you no longer have to choose between data privacy and optimizing opt-in rates for better measurement and analytics. The legal internet landscape is changing and Google adapts to it to embrace the public outcry for more user protection.
Now, if you combine CookieFirst with Google Consent Mode, you can be compliant to data protection laws like the GDPR, CCPA, LGPD and others and even keep getting accurate performance data. A dream come true for CookieFirst to offer you as our clients.
Frequently asked questions
What is Google Consent Mode?
Google developed an open API which lets your site run Google services like Google Ads, Google Tag Manager and Google Analytics based on the state of the consent of your visitors. Google Consent Mode combined with your consent management platform regulates the behaviour of the Google scripts and tags to be activated or not.
Google Consent Mode, how does it work?
CookieFirst sends the consent state of your visitors to Google Consent Mode. Only the specifics of the visitor's consent are being sent to Google, there is no personal data being transmitted when a visitor decides not to allow marketing or advertising cookies to be set.
CookieFirst
Get consent before loading third party tracking scripts
CookieFirst aims to make LGPD and GDPR compliance easy and quick to implement. The CookieFirst platform offers third-party script and consent management, statistics, periodic cookie scans, automated cookie declaration, banner customization, multiple language options, and more. Avoid large fines and get consent before loading third-party tracking scripts — try CookieFirst!