Cookie banner | 
CookieFirst
Cookie banners are everywhere – it is almost impossible to browse the web without being prompted to check yes or no when you visit a website. The GDPR and other privacy regulations like the LGPD and ePrivacy Directive have made these banners essential, as they are needed for compliance.
Did you know that your cookie banner can do more than just help you meet a legal requirement? The right cookie banner will also allow you to share your brand value and demonstrate how it aligns with the needs of your users.
Keep reading to learn the best practices for creating GDPR compliant cookie banners. We will review everything from how to develop one for your website to how these laws affect SEO, so you can set yourself up for success.
Try our consent management platform and create your custom cookie banner to manage your cookies and third-party scripts on your website compliant with the GDPR and other privacy laws. Create your free trial account here.
Cookie banners: What are they?
Let's start at the beginning: what is a cookie banner?
A cookie banner refers to an alert that is triggered the first time someone visits a website. It tells users specific information about the data the website collects, and the types of cookies and trackers use. Most importantly, the cookie banner also asks for their permission to store cookies on the device they are using.
While cookie banners are not a new development, most developers only used them to tell viewers that trackers would be installed on their devices – they didn't ask for permission.
Of course, the introduction of data privacy laws has changed this. It started with the General Data Protection Regulation – the GDPR – in the EU, and many other countries have followed suit since then.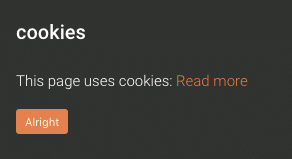 Example of a non-compliant cookie notice banner
CookieFirst is Your Solution for a GDPR Compliant Cookie Banner
At CookieFirst, we offer the best solution for GDPR compliant cookie banners. Our consent management platform has helped tens of thousands of websites improve their privacy process and achieve compliance.
We empower you to develop cookie banners that are not only privacy compliant, but also user-friendly and on-brand. Here are some of the top reasons why websites prefer to use our platform:
Customizable Design
Have you ever tried to visit a website only to be turned off by intrusive pop-ups and banners that seem to be out of place? CookieFirst allows you to use a simple cookie banner that matches your website branding – so you can achieve a seamless design.
The advanced customization features ensure that you can tailor the banner to match your branding and enhance the user experience.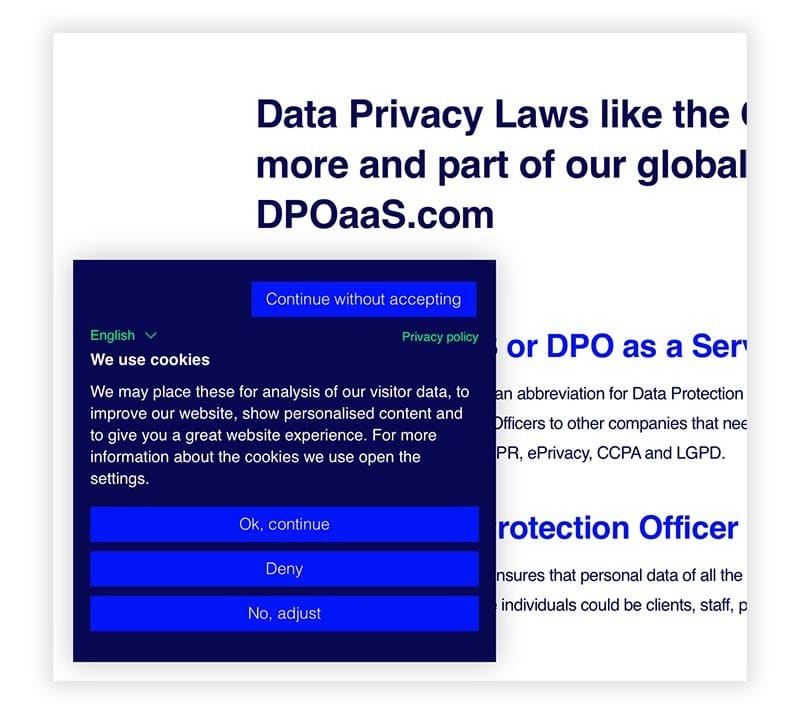 A minimal cookie banner from CookieFirst with custom design and colours.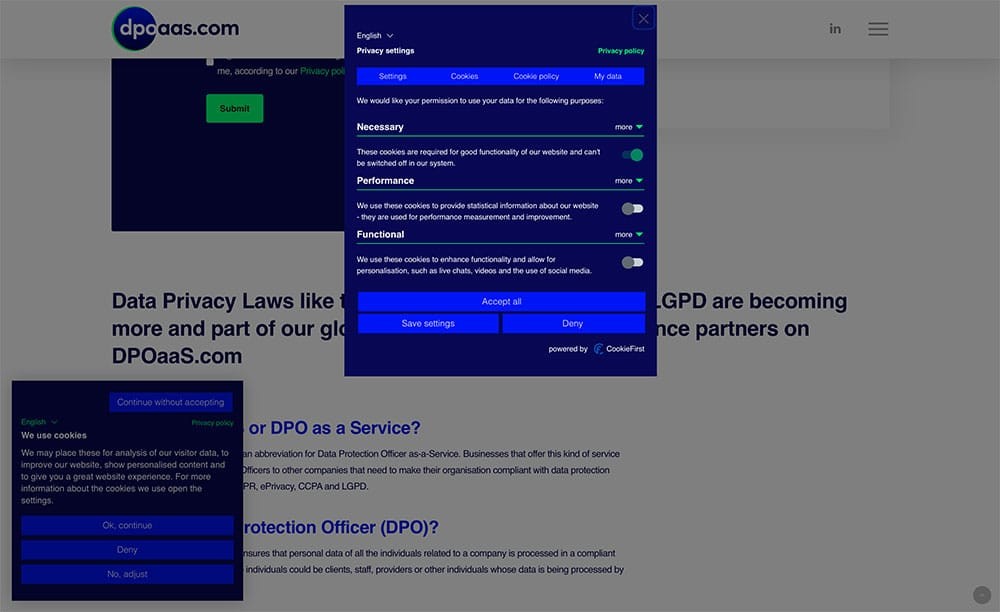 CookieFirst cookie banner settings to customize the user's cookie preferences.
Granular Control is Provided
Another key aspect of the CookieFirst consent management platform is granular control. It must be easy for users to give – or revoke – consent, and our platform does just that. Website visitors can control their cookie preferences with simple toggles.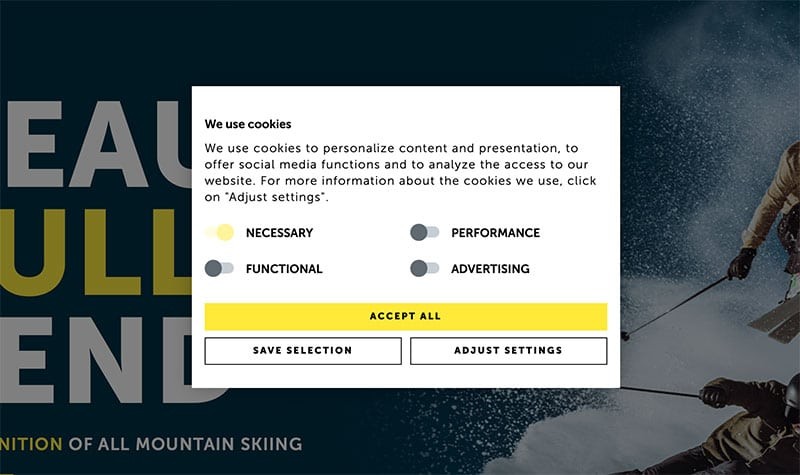 CookieFirst cookie banner with cookie category preview.
Banners Optimized for Mobile
It's no secret that people prefer to browse the web on their mobile devices. As such, you need to ensure that your cookie banners will work properly on different types of devices. It shouldn't matter if they are using a laptop, smartphone, or tablet – the consent process should be simple and user-friendly.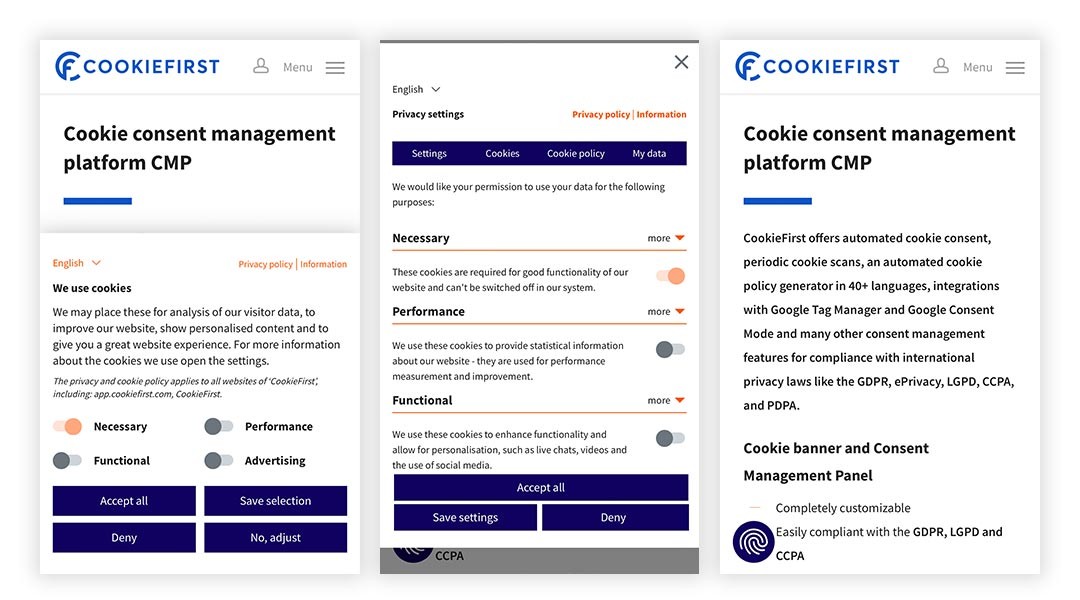 CookieFirst cookie banner settings in mobile view.
What are the EU Requirements for a Cookie Banner?
The ePrivacy Directive, also known as the EU cookie law, and the GDPR govern cookies and tracking technology in the region. Individual data protection authorities like the Irish DPC and French CNIL have also published their own guidelines.
Cookie Consent Under GDPR
GDPR cookie consent is a term that addresses the legal requirements of the regulation in respect to cookie usage on a website. The consent requirements are explicitly stated, so businesses must follow all aspects of the law.
For example, consent falls under one of the lawful bases for collecting or processing personal information. In other words, it is legal for your website to collect and store data from cookies if they obtain consent from the user before doing so.
Article 4 of the GDPR states that this consent must also be specific, informed, freely given, and unambiguous. There are additional requirements in Article 7, including the user's rights to withdraw consent and that the requests must be written in plain language.
That's why the terms cookie notifications and GDPR cookie consent banners are used interchangeably!
Cookie Laws in the EU
The ePrivacy Directive – also known as the EU's cookie law – outlines the rules created to regulate cookies and similar tracking technology. Under this regulation, websites must obtain informed consent from users before they load cookies to their devices.
The only exception under this directive is for cookies that are essential for the site to operate properly. This law serves as a supplement to the GDPR, and together they cover all the EU cookie banner rules.
Checklist for GDPR Compliance
Cookie consent banners are needed to comply with GDPR laws, but they are not enough on their own. Use this checklist to identify the additional items that you need in your cookie consent management platform to confirm that you meet the standards outlined in the GDPR:
Record consent obtained from users to prove compliance
Banners should have an 'accept' and 'reject' button
Third-party scripts should be auto blocked as the default
The banner design should match your branding
Develop a user-friendly layout that is optimized for mobile
Include an auto-translate feature that matches the user's browsing language
Use clear and plain language
Provide granular consent features
Make it easy for users to withdraw consent
Identify various cookie categories used on your site
Choose the Right Cookie Banner Layout for your Needs
With CookieFirst, you can customize your banners in various styles and layouts to match your branding and design. The cookie banners should be non-intrusive and simple – they should integrate seamlessly into the website so that the user experience is not disrupted.
Banner Type Solutions
When you imagine the classic header and footer banners used by most websites, you are thinking of a banner-type solution. Studies have shown that almost 58% of websites in the EU opt for bottom banners, while 27% instead chose to use top banners.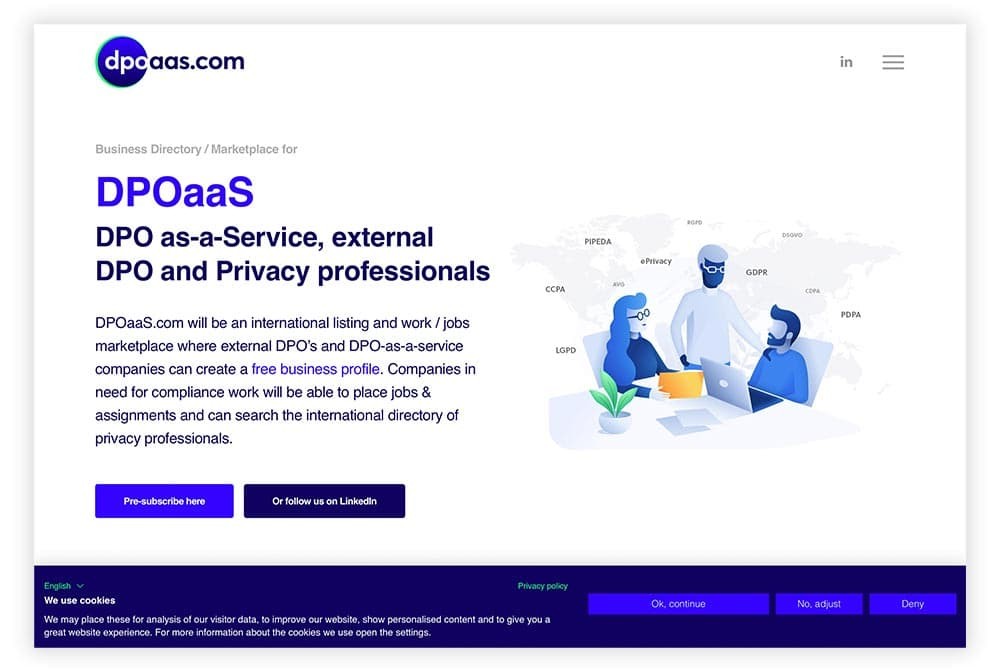 A simple footer cookie banner in the style of the website.
Boxed Type Solutions
Another option you can select for your cookie banners is called boxed types. A boxed type of solution refers to the pop-ups or layouts that place the consent information in the right or left corner of the website.
This is often an ideal solution since placing the cookie banners in the corners is more aesthetically pleasing. Likewise, you can align them to your existing design and ensure that they do not detract from the user experience.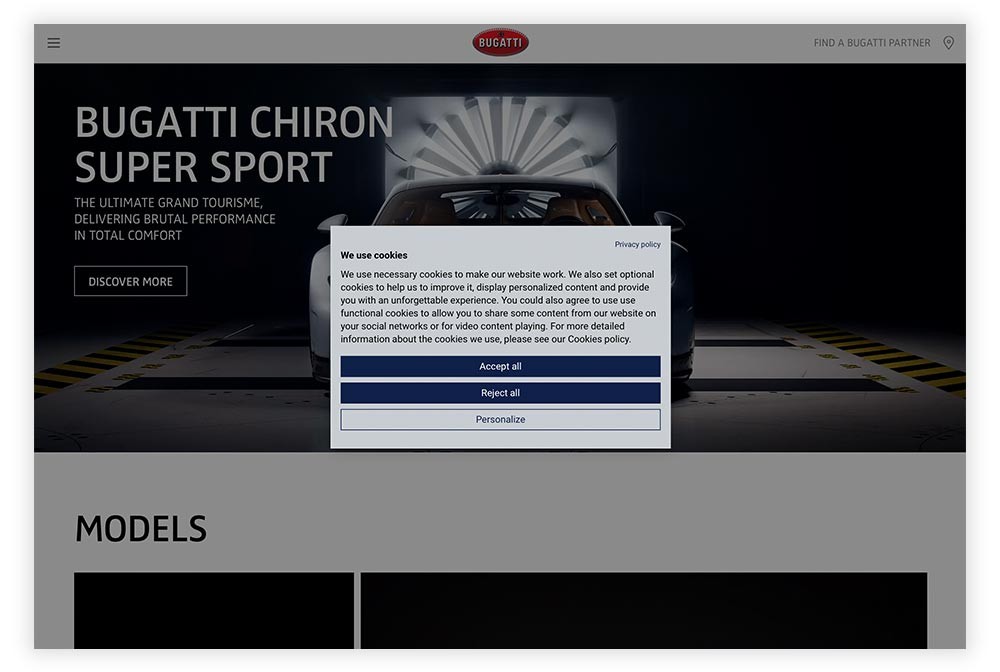 This boxed cookie popup has a simple design and has a dark overlay underneath.
The Options are Endless
As you can see, the options are endless when you use CookieFirst for your consent management needs. These examples highlight just a few of the ways that we have helped users customize their banners and comply with privacy regulations.
Our dashboard is simple, so you can start implementing your cookie policy right away. From personalized cookie banner designs and custom branding to standard templates, we have everything you need to get in compliance.
CookieFirst can help you achieve everything on the cookie banner checklist – and more!
Are your an agency, webdesigner or another reseller?
Earn 30% commission, take a look at our
reseller model

 or contact us for numbers larger than 500 clients
Calculate your revenue
Identifying the Need for a Cookie Banner
Now that you understand cookie banners and how CookieFirst can help you manage them, it is time to determine whether you need a cookie banner. Specifically, do you need a cookie banner that complies with GDPR requirements?
The answer is almost always yes. Any time that you have website visitors from the EU – or if you operate in the region – you must have a cookie consent banner. This is a key component of the ePrivacy Directive and is a must-have.
Similarly, many data privacy regulations extend their scope to businesses beyond their physical jurisdiction. As such, implementing compliant cookie banners is a best practice.
Click here to take a look at the NOYB-guidelines for cookie banners.
What Happens if Cookie Banners are not GDPR Compliant?
So, what happens if your cookie banners do not align with privacy laws?
Failure to comply with the GDPR can result in substantial penalties and fines. Violators will be prosecuted – and the regulatory authorities will likely inflict monetary consequences. While this can be intimidating, the fines can easily be avoided with proper cookie consent management.
Perhaps if Google and Amazon had partnered with CookieFirst, they could have avoided the €135 million fine they received from the CNIL for breaching privacy and disclosure requirements!
Cookie Banner Requirements in the U.S.
We've talked quite a bit about cookie requirements in the EU, so you may be wondering, are they also required in the U.S.?
Even though there is no nationwide privacy law in the United States, it is possible that the GDPR still applies. Users in those geographical regions can still access websites that are not EU-based, so they will still need to display a cookie consent banner.
There is also legislation at the state level to consider, like the California Consumer Privacy Act (CCPA) or the Virginia Consumer Data Protection Act (CDPA). These laws mirror many of the rights outlined in the GDPR and, while you may not need a cookie banner, you will most certainly need to share an opt-out cookie notice.
Provide an Opt-Out Notice
Let's address one of the most crucial aspects of the CCPA: providing an opt-out notice. This notice should meet the following requirements:
Display a 'Do Not Sell' button to allow users to opt-out
Automatically block third-party scripts until consent is given
Inform users about their rights and your use of cookies
Record their action to prove compliance
What should you do if your website caters to users from the EU and the U.S.? CookieFirst allows you to geo-target your banner so that you can display the appropriate notice based on the user's location.
SEO Implications with a cookie banner
When your cookie banners are implemented correctly, they will not affect your SEO efforts. However, if they prove to be intrusive and take away from the user experience, Google will not give your site favorable treatment.
Search engines like Google have emphasized that appropriate cookie banners won't hurt your performance, but obnoxious pop-ups will. That means you should ensure that your cookie banners are not obstructing content on the site. Likewise, your team should optimize them for various devices like mobile.
Does my Website Need a Cookie Policy?
You may be wondering, does my website need a cookie policy? Do we really need to implement these privacy controls?
The short answer is yes – it is always a good practice to utilize a cookie policy. However, it will also vary depending on where your visitors are from. If you cater to users from the U.S. or EU, you must comply with privacy regulations. CookieFirst offers a cookie policy generator. You can also view our own cookie policy here.
The GDPR addresses cookies in its definition of personal data, so you must develop a cookie policy that is accessible to all users. Most websites choose to build a separate cookie policy that links to your banners, allowing users to give informed consent.
The CCPA requires websites that cater to visitors in the U.S. to disclose data collected and processed through cookies. Although this law doesn't require you to maintain a separate cookie policy, you will still need to publish a privacy policy.
Review Your Current Cookie Banner
If you already have a cookie banner, it is essential to review whether it complies with privacy regulations. Start by reviewing this quick checklist – if any of these items apply it is time for a redesign:
You cannot systematically record user consent
Your cookie or privacy policy is not linked
Users are nudged to hit the accept button
It is unclear what the purpose of the cookie usage is
Third-party scripts are not blocked
Users can't access the site until they give consent
There is no option to customize settings
CookieFirst
Get consent before loading third party tracking scripts
CookieFirst aims to make ePrivacy and GDPR compliance easy and quick to implement. The CookieFirst platform offers third-party script and consent management, statistics, periodic cookie scans, automated cookie declaration, banner customization, multiple language options, and more. Avoid large fines and get consent before loading third-party tracking scripts — try CookieFirst!