And what can we say more about 
CookieFirst

and Cookiebot?
Both platforms have the same goal, however in some ways the platforms can be different. For example, let's take a look at how identification of your third-party tracking script works and how we use that data to generate a consent modal.
Cookie Consent banner
CookieFirst and Cookiebot both scan your website for third-party tracking scripts. These scripts are then grouped in five categories (Necessary, Preferences, Statistics, Marketing and Unclassified). Also a cookie declaration is being generated which contains descriptions of every cookie on your site. Every month your website is being scanned and your cookie manager is being updated.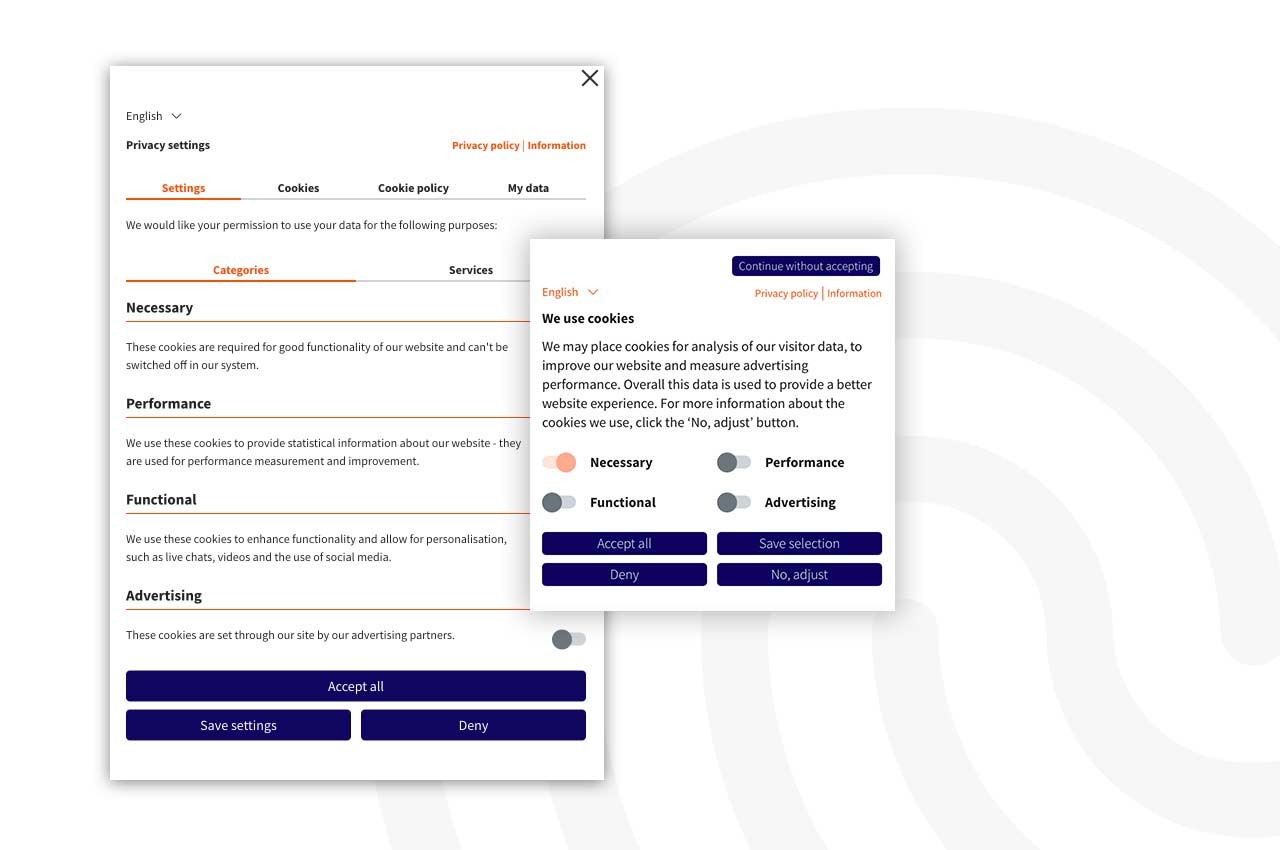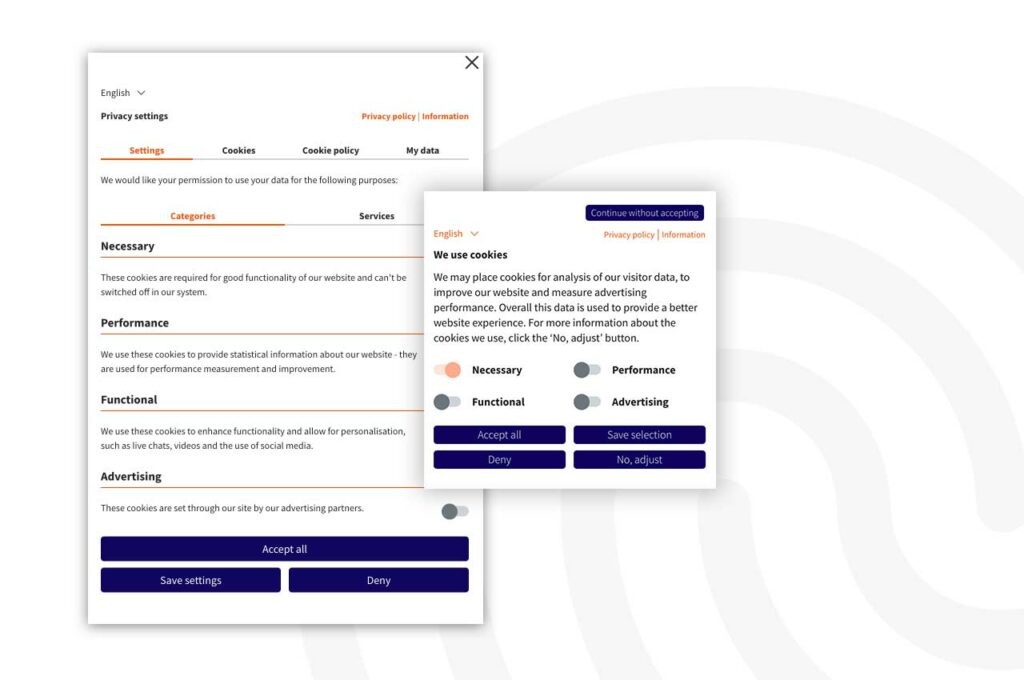 CookieFirst, the Cookiebot alternative:
The CookieFirst platform also has periodic scanning and automatic updating, and gives you a lot more flexibility and control over you third-party tracking scripts and to which category they belong to, just as Cookiebot. In the CookieFirst dashboard you can add and categorize all your trackers, for example: Analytics, Live Chat, Advertising, Research, Monitoring and more… All this information is easily accessible to your website visitors. How we integrate the third-party tools you're using? View our integrations examples.
Within the CookieFirst dashboard you can simply add or remove third-party trackers, and when you click 'Publish' all info and settings are updates on the consent modal on your site.
Asking for cookie consent
Cookiebot and CookieFirst both offer multiple ways to ask for cookie consent:
just showing visitors an opt-out button
showing an opt-in for all cookies
showing an opt-in and an opt-out button
showing a multi-level opt-in / opt-out options per cookie category
showing multi-level opt-in / opt-out options in the cookie banner
But both also offer other configurations in order to become GDPR, LGPD or CCPA compliant
According to the GDPR legislation, your website has to clearly mention the specific purpose of asking consent and you also have to provide a granular opt-in for every third-party tracking script without any pre-ticked boxes. This is why also the CookieFirst consent system asks for separate consent for the different purposes. It will also make you as transparent as possible in you use of third-party scripts.
Managing your third-party integrations
Cookiebot has a global repository with cookie descriptions of the most used third-party cookies. That is being explained on their website too: "When Cookiebot identifies a known cookie on your website it uses the information from the knowledge base to describe the prupose of the cookie to your website visitors."
If you would like to know more about the types of cookies, then read our article: What are cookies ?
In order to be GDPR compliant you need CookieFirst and also Cookiebot to prevent third-party tracking scripts from loading before consent is given. Both Cookiebot and CookieFirst offer multiple ways to do this, including auto blocking third-party scripts from executing before consent. Your site needs extensive customization and configuration to make conditionally loading of third-party possible, if user gives consent.
CookieFirst also works with special integration possibilities for the most common third-party tracking tools. These scripts, for example: Google Analytics, Double Click, Google Tag Manager, Intercom Chat, Facebook tracking pixel, and other popular tracking tools, have extensive options for integration to give you control on how tracking scripts are loaded.
CookieFirst lets you manage you third-party tracking scripts in a way similar to Google Tag Manager. In the CookieFirst dashboard, you can add your tracking scripts and adjust their settings without writing a single peace of code. In just 2 clicks you can require a user to give consent before loading Google remarketing script. You can see for yourself how we do it. Create an account here.
CookieFirst offers all kinds of integrations and plugins (for example Cookie WordPress plugin) and is compatible with virtually every web technology available. Also, CookieFirst integrates with Google Consent Mode, a privacy friendly way for using Google Analytics.
Language support
Both Cookiebot and CookieFirst do support a lot of languages. CookieFirst and Cookiebot support over 40 languages at this moment. We keep adding new languages every month. Our Cookie banners and modals do support most most languages, just add a translation to your banner, or request a missing language that you are missing. We can add new languages within two weeks.
Pricing
Just as Cookiebot, CookieFirst maintains a freemium account apart from the paid subscriptions. The pricing model of Cookiebot is based on how many domains and subpages you connect to the platform. CookieFirst's pricing model is based on how many domains you add and the number of monthly page views you do on all your domains/subdomains combined. But within our soft-limit of 300.000 page views per domain per month (with an additional 25% allowed overuse) we have the Basic plan and the Plus plan which differ in the level of customization you want to have in your cookie management, and for example in the consent lookups / consent audit trails. Take a look at our pricing plans. We offer both monthly and annual subscriptions. (annual subscriptions include 1 month of free usage)
The pricing model of Cookiebot is based on the number of domains and on the number of subpages, and CookieFirst's pricing model is based on how many domains and subdomains you want to track, the combined monthly web traffic (regular pricing applies when within our soft-limit) and the level of customization to your cookie consent. CookieFirst does not charge extra for the number of pages.
Cookie banner design
Most cookie management tools with our extensive possibilities generate a relatively standard cookie banner or modal. CookieFirst and Cookiebot let you customize the design or your cookie banner and cookie consent modal so it fits your branding. Tailor your cookie banner to fit your needs. CookieFirst offers you a cookie banner configurator that matches the design of your website.
Cookie Consent Managers / CMP's

| | CookieFirst | Cookiebot | Civic | Didomi |
| --- | --- | --- | --- | --- |
| Set-up time | <10 minutes | <10 minutes | 4-8 hours | 4-8 hours |
| Non tech setup | | | | |
| Automatically add information | | | | |
| Includes subdomain(s) | | | | |
| Multi-language | | | | |
| Consent Logs / Audit Trails | | | | |
| Revoke Consent | | | | |
| Annual starting cost | €99 | €144 | €45 | €3000 |
Available
Partly
Not available
Can CookieFirst be a Cookiebot Alternative?
Both CookieFirst and Cookiebot enable your visitors to give or withdraw cookie consent. Both Cookiebot and CookieFirst do not require specific coding skills to stop third-party tracking scripts from loading before consent is given by your visitors. So also with CookieFirst you don't need coding skills in order to do this. CookieFirst makes it easy for you to be compliant with the GDPR and cookie laws.
Cookiebot's cookie policy is automated, and lists all scripts with a clear explanation. Just as with CookieFirst, this offers transparency for your visitors. And also with the CookieFirst cookie policy generator, default cookie descriptions can be edited to fit your needs. This can be done for every language that you activate in your domain settings. That way you can make your cookie policy as clear as possible to your visitors.
CookieFirst allows you to add third-party tracking for several purposes, and you can group your scripts per tracking tool. The CookieFirst platform gives you a perfect overview of all kinds of tracking scripts you are using on your website and makes it clear to your visitors what they consent to.
If you want to track your consents and you want to be easily compliant with the GDPR without high costs, CookieFirst offers a great deal. CookieFirst might just be your Cookiebot alternative!