Cookiebot alternative for consent management | 
CookieFirst
Short time after we started CookieFirst, many people popped the question: "What's the difference between CookieFirst and Cookiebot?" So in this whitepaper we tend to explain how CookieFirst compares to Cookiebot in terms of platform features, pricing and compliance with the cookielaws and GDPR.
Let's first take a look at what both have in common. Both CookieFirst and Cookiebot want to make the internet a better and more friendly place where visitors know exactly how their visitor data is being used and how they are tracked. They have given explicit 'consent' to be tracked or not. On the other hand we try to make it easier for marketers and webmasters who need their tracking tools to be compliant but still acquire useful and accurate data. 
And what are the differences between
CookieFirst

and Cookiebot?
Both platforms have the same goal, however the way the platforms work are kind of different. For example, let's take a look at how identification of your third-party tracking script works and how we use that data to generate a consent modal.
Cookie Consent banner
CookieFirst and Cookiebot both scan your website for third-party tracking scripts. These scripts are then grouped in five categories (Necessary, Preferences, Statistics, Marketing and Unclassified). Also a cookie declaration is being generated which contains descriptions of every cookie on your site. Every month your website is being scanned and your cookie manager is being updated.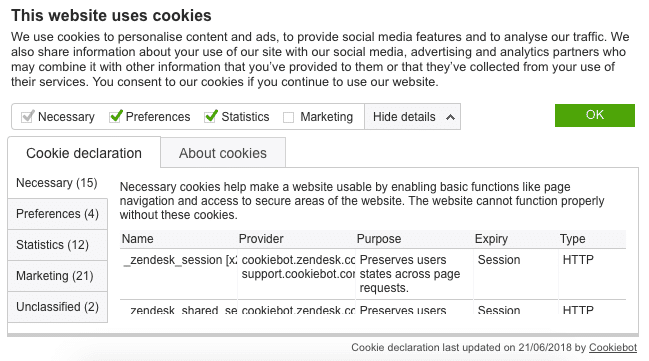 CookieFirst, the Cookiebot alternative:
The CookieFirst platform also has periodic scanning and automatic updating, but gives you a lot more flexibility and control over you third-party tracking scripts and to which category they belong to. In the CookieFirst dashboard you can add and categorize all your trackers, for example: Analytics, Live Chat, Advertising, Research, Monitoring and more… All this information is easily accessible to your website visitors. How we integrate the third-party tools you're using? View our integrations examples.
Within the CookieFirst dashboard you can simply add or remove third-party trackers, and when you click 'Publish' all info and settings are updates on the consent modal on your site.
Asking for cookie consent
Cookiebot offers 5 different ways to ask for cookie consent:
just showing visitors an opt-out button
showing an opt-in for all cookies
showing an opt-in and an opt-out button
showing a multi-level opt-in / opt-out options per cookie category
showing multi-level opt-in / opt-out options in the cookie banner
Important to know is that ONLY 4 and 5 are GDPR compliant
Why that is? It's because according to the GDPR legislation, your website has to clearly mention the specific purpose of asking consent and you also have to provide a granular opt-in for every third-party tracking script without any pre-ticked boxes. This is why the CookieFirst consent system asks for separate consent for the different purposes. It will also make you as transparent as possible in you use of third-party scripts.
Managing your third-party integrations
Cookiebot has a global repository with cookie descriptions of the most used third-party cookies. That is being explained on their website too: "When Cookiebot identifies a known cookie on your website it uses the information from the knowledge base to describe the prupose of the cookie to your website visitors."
In order to be GDPR compliant you need Cookiebot to prevent third-party tracking scripts from loading before consent is given. Cookiebot requires manual coding to do this. Your site needs extensive customization and configuration to make conditionally loading of third-party possible, if user gives consent.
Let's compare it to CookieFirst. CookieFirst works with special integration possibilities for the most common third-party tracking tools. These scripts, for example: Google Analytics, Double Click, Google Tag Manager, Intercom Chat, Facebook tracking pixel, and other popular tracking tools, have extensive options for integration to give you control on how tracking scripts are loaded.
CookieFirst lets you manage you third-party tracking scripts in a way similar to Google Tag Manager. In the CookieFirst dashboard, you can add your tracking scripts and adjust their settings without writing a single peace of code. In just 2 clicks you can require a user to give consent before loading Google remarketing script. You can see for yourself how we do it. Create an account here.
Language support
Cookiebot does support a lot of languages. CookieFirst supports over 40 languages at this moment. We keep adding new languages every month. Our Cookie banners and modals do support most most languages, just add a translation to your banner.
Pricing
Just as Cookiebot, CookieFirst maintains a freemium account apart from the paid subscriptions. The pricing model of Cookiebot is based on how many domains and pages you connect to the platform. CookieFirst's pricing model is just based on how many domains you add and the level of customization you want to have in your cookie management.
The pricing model of Cookiebot can result in high costs, because it's based on the number of subpages. So a small company with a large site could be charged high amounts in order to use Cookiebot for consent tracking.
CookieFirst's pricing model is based just on how many domains or projects you want to track and the level of customization to your cookie consent. So you will NOT be charged extra for number of pages.
Did we mention design yet?
Most cookie management tools with our extensive possibilities generate a relatively standard cookie banner or modal. CookieFirst lets you customize the design or your cookie banner and cookie consent modal so it fits your branding. No more ugly cookie banner, but CookieFirst offers your something that matches the design of your website.
Best Cookie Consent Manager

| | CookieFirst | Cookiebot | Civic | Didomi |
| --- | --- | --- | --- | --- |
| Set-up time | <20 minutes | 2-5 hours | 4-8 hours | 4-8 hours |
| Non tech setup | | | | |
| Automatically add information | | | | |
| Includes subdomain(s) | | | | |
| Multi-language | | | | |
| Consent Audit Trails | | | | |
| Revoke Consent | | | | |
| Annual starting cost | €99 | €108 – €440 | €45 | €3000 |
Available
Partly
Not available
So, what makes CookieFirst a better Cookiebot Alternative?
Both CookieFirst and Cookiebot enable your visitors to give or withdraw cookie consent. Cookiebot requires specific coding skills to stop third-party tracking scripts from loading before consent is given by your visitors. With CookieFirst you don't need coding skills in order to do this. CookieFirst makes it easy for you to be compliant with the GDPR and cookie laws.
Cookiebot's declaration is automated, and you don't have any control over it. It just lists all scripts with an explanation. However, this is not really transparent for your visitors because they need to scroll through a confusing list of cookies to take look at what they mean for a visitor.
CookieFirst allows you to add third-party tracking for several purposes, and you can group your scripts per tracking tool. The CookieFirst platform gives you a perfect overview of all kinds of tracking scripts you are using on your website and makes it clear to your visitors.
If you want to track your consents and you want to be easily compliant with the GDPR without high costs, CookieFirst offers the best deal. CookieFirst is a first real Cookiebot alternative!