Register today for your FREE account for our Joomla Cookies Consent solution.
Try our paid subscriptions Basic and Plus for Free for 14 days.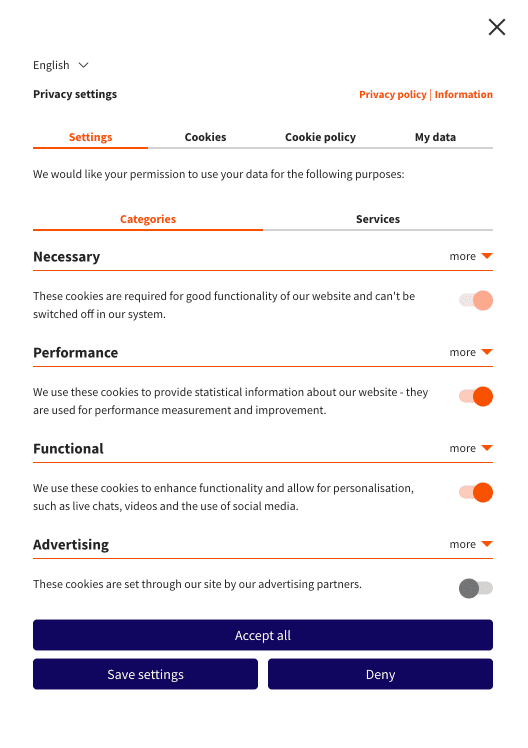 GDPR compliant cookie solution / cookie banner
Joomla Cookies Consent solution / Cookie Banner
What do you want your website's cookie banner to look like? It's up to you with CookieFirst. Our Joomla cookies consent tool allows you to quickly adapt everything from style and color to font, making it easy to create something in line with your brand guidelines.
An intuitive, simple and user-friendly design means our cookie consent solution is easy to both set up and manage on an ongoing basis.
By scanning your page's content, our Joomla cookie consent solution gives you the ability to understand your usage of third-party scripts and automatically generate according policies.
From the CookieFirst backend, you can view detailed statistics on how your website's visitors interact with your cookie policy. This allows you to make necessary changes to ensure optimal compliance.








What is CookieFirst? – Joomla Cookies Consent
CookieFirst is a Joomla cookies consent solution that makes it easy to comply with prominent user privacy regulations. Through a powerful, all-in-one design, it gives website administrators the ability to seamlessly monitor and manage their page's use of cookies, as well as avoid nasty fines for non-compliance.
An easy to use interface for Joomla users.
People love Joomla for its simple, straightforward and user-friendly interface. We've built CookieFirst CMP to be no different, with an easy-to-understand system and speedy set up process. Get our cookie management tool up and running within minutes without any hassle or confusion.
Cookies are small text files that are placed on users' computers by websites they visit. They are widely used in order to make web pages work (or work more efficiently) as well as to provide valuable insights to site owners. Cookies aren't inherently bad, but they can pose a privacy risk if they are not used in a responsible way. That's why, under the GDPR, website operators must disclose their use of cookies and provide visitors with the opportunity to opt-out.
Our prices
Simple, free and easy to use, Joomla has been at the forefront of website creation since its inception in 2005. It offers creators and businesses a cost-effective way to build beautiful websites without compromising on quality or functionality.
From content management and eCommerce to social networking and forums, there's a Joomla extension for almost everything. This makes it an incredibly popular choice for businesses and individuals looking to create a website without spending a fortune.
With a huge range of features and integrations, Joomla is perfect for everything from small personal projects to large scale corporate websites. It is one of the most popular content management systems in the world, powering over 3% of all websites on the internet.
Pricing | Joomla Cookies Consent
Get 1 Month for Free with Annual Plans