Register today for your FREE account for our Wix Cookies Consent solution.
Try our paid subscriptions Basic and Plus for Free for 14 days.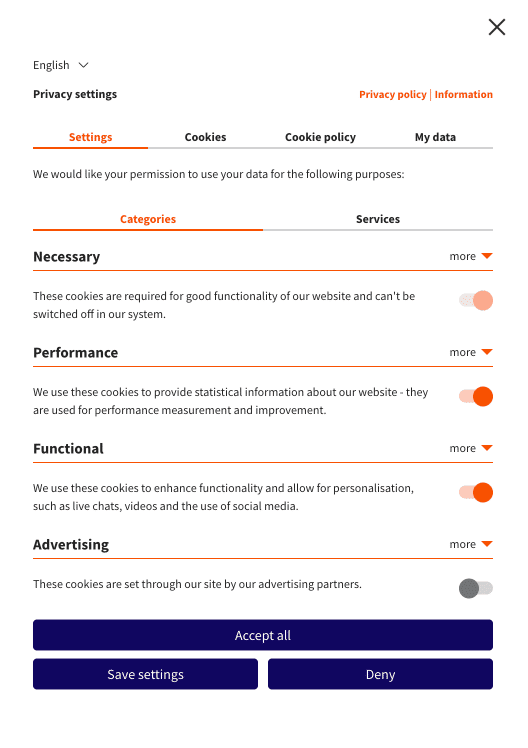 GDPR compliant cookie solution / cookie banner
Wix Cookies Consent solution / Wix Cookie Banner
Craft cookie banners to match your brand's character through our tool's range of color, font, position and style customizations.
With a seamless setup process and easy-to-use interface, our Wix cookie consent solution is ideal for those who don't want to waste their time on the mundane.
Our tool administers regular scans for third-party cookie use to ensure your website is always in compliance with policies and regulations. It can also generate automatic cookie policies based on your preferences.
Easily get details into your Wix site's performance and cookie use through our comprehensive dashboard and regular scan reports.








What is CookieFirst? – Wix Cookies Consent
CookieFirst is an all-in-one cookie consent management platform. It helps website owners oversee and manage their use of third-party data to remain in line with major eprivacy regulations like the GDPR. Through its simple, purpose-built design, our Wix cookies consent solution is simple to set up and makes avoiding fines for non-compliance easy.
An easy to use interface for Wix users.
Wix is a notoriously simple platform, so why should getting cookie consent be any different? CookieFirst's interface is designed with first-time users in mind. Everything is self explanatory and easy to find, while extensive features offer you the ability to complexify your cookie consent as much as you like.
Unlike some other consent management platforms, our Wix Cookie Consent solution is built to work perfectly with Wix's Javascript. This means that you can be sure that all your cookies will be blocked until consent has been given, without having to worry about any conflicts.
CookieFirst can generate an extensive, GDPR-compliant cookie policy in minutes. This can be done through our simple interface by answering a few questions, or left to our algorithm which will automatically scan your website for cookies and generate a policy accordingly. Our Wix-compatible tool also offers a range of customization options to ensure that your Wix cookie banner perfectly reflects your brand and the language of your users.
Our prices
Wix is a simple, all-in-one website builder that gives users everything they need to create a professional website. With it, you can create a website in minutes, without having to learn coding or design.
Wix is perfect for businesses of all sizes, from small businesses to large enterprises. The platform offers a wide range of features, including a drag-and-drop website builder, eCommerce solutions, and a powerful marketing platform. You can also use Wix to create a professional blog or portfolio.
Wix is used by over 200 million people around the world, making it one of the most popular website builders on the market. Its simple interface and extensive features make it the perfect platform for those who want to create a professional website without any hassle.
Pricing | Wix Cookies Consent
Get 1 Month for Free with Annual Plans