Register today for your FREE account for our Prestashop Cookies Consent solution.
Try our paid subscriptions Basic and Plus for Free for 14 days.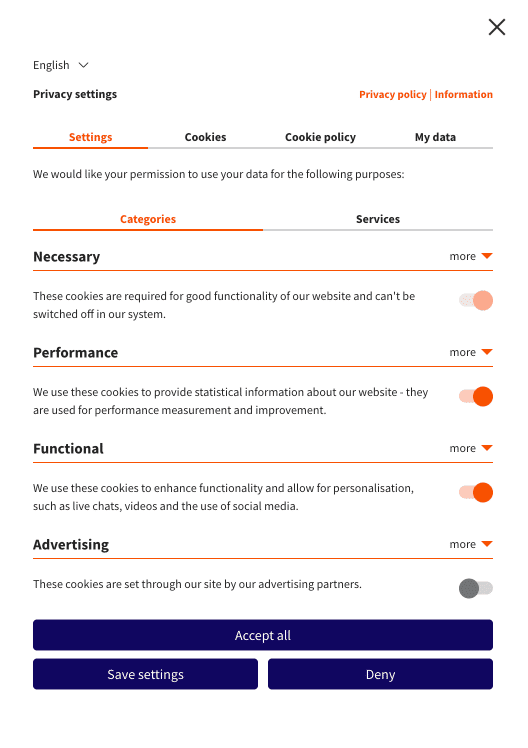 GDPR compliant cookie solution / cookie banner
Prestashop Cookies Consent solution / Cookie Banner
Create a cookie banner unique to your brand's identity and character through the use of color, font, style and position controls.
One of the things that makes our Prestashop cookies consent solution so popular is the easy-to-understand interface it boasts. Easily navigate your way through the platform and set it up in a matter of minutes.
Our tool can scan your website to identify the third-party scripts it uses and create a corresponding cookie policy to embed in its structure.
Stay on top of things and ensure your Prestashop store is always compliant by viewing detailed statistics about consents given, withdrawn and declined by users.








What is CookieFirst? – Prestashop Cookies Consent
CookieFirst is a comprehensive cookie consent management tool built for the purpose of maintaining compliance with data privacy laws. It offers website admins the ability to easily oversee and control their page's use of third-party scripts, as well as take the actions necessary to ensure they aren't at risk of being fined. Our CMP also offers Prestashop Cookies Consent.
An easy to use interface for Prestashop users.
Prestashop Cookies Consent
The primary goal of the CookieFirst tool is to make it as easy as possible for website administrators to get their sites compliant with data privacy regulations. In order to achieve this, we've designed a user interface that is both easy to understand and quick to set up. And unlike other solutions on the market, our tool seamlessly integrates with platforms like Prestashop for a hassle-free experience.
A cookie is a small text file that is placed on your computer or mobile device by a website you visit. It enables the website to remember your actions and preferences (such as login, language, font size and other display preferences) over a period of time, so you don't have to keep re-entering them whenever you come back to the site or browse from one page to another.
While cookies aren't bad in and of themselves, they can be used to track users' browsing habits and collect data without consent. This is why a number of countries have implemented strict regulations surrounding the use of cookies, including the European Union with its GDPR regulation.
Our prices
Prestashop is a free and open source eCommerce platform that helps businesses of all sizes create an online store. It offers users a wide range of features and tools to easily set up and manage their shop, without the need for any coding knowledge. Some of the most popular features include a drag and drop page builder, product management, order management, and built-in payment processing.
What has made Prestashop so popular among businesses is its ease of use and flexibility. It can be used to create a simple online shop or a complex eCommerce website. It also offers a wide range of customization options, so businesses can create a unique website that perfectly reflects their brand.
Prestashop is available in 75 different languages and is used by over 300,000 businesses in 190+ countries around the world. It has a large and active community of developers and users who regularly evolve the platform through new modules, themes, and translations.
Pricing | Prestashop Cookies Consent
Get 1 Month for Free with Annual Plans