Register today for your FREE account for our Shopify Cookies Consent solution.
Try our paid subscriptions Basic and Plus for Free for 14 days.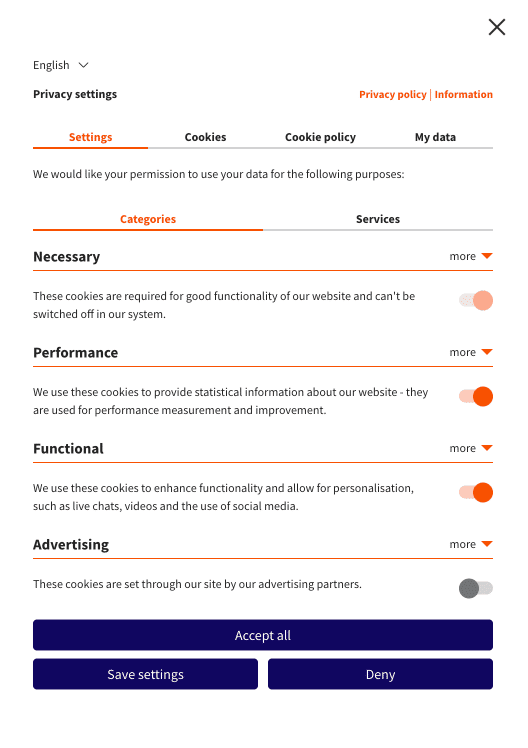 GDPR compliant cookie solution / cookie banner
Shopify Cookies Consent solution / Cookie Banner
Adapt the cookie banner to align with your brand style and overall identity. Our solution makes it easy to experiment with different fonts, positions, colors and more.
Tired of long and complicated tech setups? Our Shopify cookie consent solution is super easy to configure and use.
Take advantage of our turnkey automatic policy generator and cookie scanning features for ongoing peace of mind.
Our tool makes the process of data analysis and review simple through an easy-to-read dashboard and regular scan reports.








What is CookieFirst? – Shopify Cookies Consent
CookieFirst is a comprehensive cookie management platform designed to help modern website administrators remain compliant with ePrivacy regulations. Our Shopify cookie consent solution makes it easy to control your store's use of third-party scripts and avoid costly fines for breaking laws like the GDPR and CCPA.
An easy to use interface for Shopify users.
You're in the business of selling on Shopify, not coding and managing website tags. Take the burden of remaining in check with privacy regulations off your shoulders by working with CookieFirst. Our simple tool was conceptualized and built for professionals just like you as an all-in-one solution to their privacy needs. With an easy-to-use interface and easy integration with Shopify JavaScript, it's unlike any other cookie management platform on the market.
CookieFirst offers a slew of powerful features to take advantage of. From an automatic cookie scanner and policy generator to customizable cookie banners, regular reports and multilingual support, there's so much value to reap from this CMP.
Our prices
Shopify is a leading ecommerce platform that hosts over half a million online stores. It offers users a simple way to create and manage their storefronts, with no need for coding or web development experience.
Shopify is known for its user-friendly interface, diverse range of features and wide range of integrations. The platform boasts a wide range of customization options to make every store it hosts look and feel unique, and provides powerful tools for essential functions like order management, inventory, shipping, and payments.
Shopify is a popular choice for entrepreneurs and small businesses looking to launch an online store, and has become the platform of choice for many larger businesses as well. Some of the world's leading brands, including Tesla, Red Bull, and The New York Times, use Shopify to power their ecommerce operations.
Pricing | Shopify Cookies Consent
Get 1 Month for Free with Annual Plans