Register today for your FREE account for our Hubspot Cookies Consent solution.
Try our paid subscriptions Basic and Plus for Free for 14 days.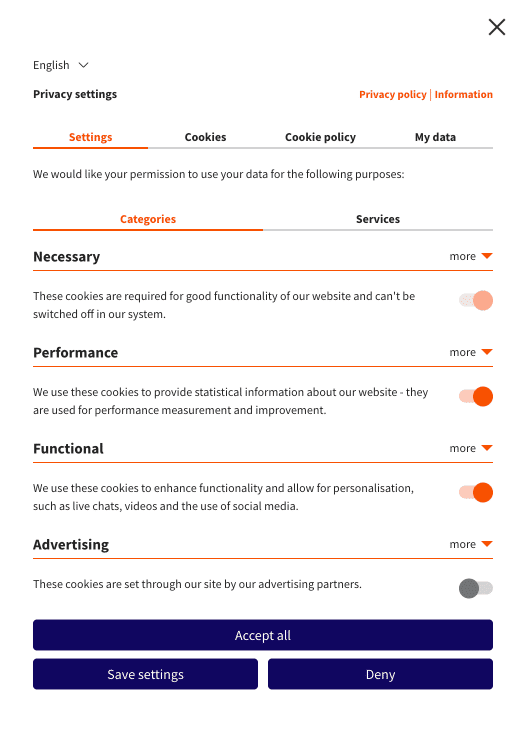 GDPR compliant cookie solution / Hubspot cookie banner
Hubspot Cookies Consent solution / Cookie Banner
Customize your website's cookie banner to align with your corporate style, colors, font and tone.
Seamlessly configure our Hubspot Cookies Consent solution on your website in minutes through an easy-to-use interface.
Get regular website scans to ensure your ongoing compliance with privacy laws and generate a cookie policy that's tailored to your specific needs.
Access detailed reports on how website visitors interact with your Hubspot cookie banner to help inform future optimization strategies.








What is CookieFirst? – Hubspot Cookies Consent
CookieFirst is a specialized platform designed to help website administrators with their cookie consent management needs. It was built by and for industry professionals to simplify the endeavor of privacy compliance and makes it easy for users to prevent fines from prominent laws like the GDPR.
An easy to use interface for Hubspot users.
Hubspot Cookies Consent
Hubspot is a common (and important) integration for many websites. But as a third-party tool, it can also be problematic to have. Major ePrivacy regulations like the GDPR require that web pages obtain users' consent prior to allowing integrations like Hubspot to collect their data. This can create a barrier for some businesses, as not everyone has the background or resources necessary to create and maintain a consent system. That's where we come in.
Not everyone has extensive experience in coding, and that's okay. Our intuitive tool was made for people of all levels of expertise. You don't need to be a developer to use our platform, nor do you need to worry about complicated integrations. CookieFirst CMP easily melds with Hubspot JS to make sure your website is always in compliance.
Our prices
Hubspot is a leading CRM platform that helps businesses grow their sales and marketing efforts. It's equipped with a suite of features and tools designed to simplify and promote business growth, and is used by over 150,000 customers in more than 120 countries.
Hubspot's software helps them manage their sales and marketing efforts in one place. It offers features like contact management, email marketing, automation, and reporting. Hubspot also has a marketplace of over 300 integrations that can be used to supplement its core offerings.
Pricing | Hubspot Cookies Consent
Get 1 Month for Free with Annual Plans