Register today for your FREE account for our Drupal Cookies Consent solution.
Try our paid subscriptions Basic and Plus for Free for 14 days.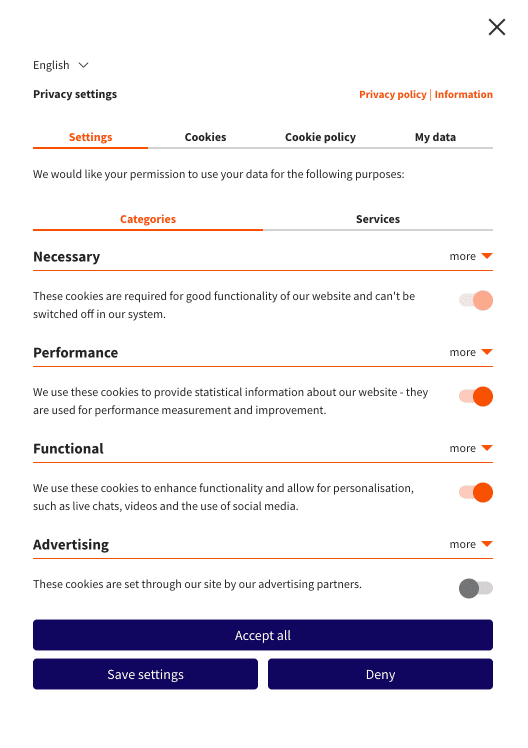 GDPR compliant cookie solution / cookie banner
Drupal Cookies Consent solution / Cookie Banner
Get creative with our tool's suite of customization features. They allow you to change everything from color and style to font, tone and configuration to ensure your cookie banner is in line with your brand's character.
No time for technical stuff? No problem. Our Drupal cookie consent solution was purposefully built for easy setup and management, so you can reap the full benefits of compliance without having to put in extra work.
Regular scans make sure your website is always compliant with regulations. They can also help generate automatic policies tailored to your page's specific use of third-party scripts.
We offer detailed, yet easy to understand, reports that show you how your website is doing in terms of cookies and user consent. This helps you understand user behavior and make changes accordingly.








What is CookieFirst? – Drupal Cookies Consent
CookieFirst is a Drupal cookies consent solution that makes it easy for website owners to comply with privacy laws like the GDPR. Through a simple yet powerful design, it gives users the ability to configure, launch and manage cookie consent systems with just a few clicks. The days of worrying about fines for violation with data regulations are over. With CookieFirst CMP, keeping your page up-to-date and compliant is a breeze.
An easy to use interface for Drupal users.
CookieFirst was created with three things in mind: user experience, privacy by design and website efficiency. Our Drupal cookies consent solution is designed to be as simple and straightforward as possible. With its easy-to-use interface, you can set up your cookie consent system in minutes, without having to worry about the technical details.
Our prices
Drupal is a free, open source and easy-to-use software program designed for the purpose of building and managing websites. It is written in the PHP programming language and uses a relational database (such as MySQL) to store data. It is estimated that there are currently more than 1.7 million websites using Drupal on the internet today, with new sites being added every day.
Drupal is a popular choice for website owners because it offers a high degree of flexibility and can be easily customized to meet the specific needs of any website. It is also very user-friendly, making it a good choice for those who are not familiar with web programming or coding.
Drupal is released under the GNU General Public License, which gives website owners the freedom to modify and redistribute the software. This makes it possible for anyone to create and distribute their own Drupal-based website.
Pricing | Drupal Cookies Consent
Get 1 Month for Free with Annual Plans