Register today for your FREE account for our Magento Cookies Consent solution. (Adobe Commerce)
Try our paid subscriptions Basic and Plus for Free for 14 days.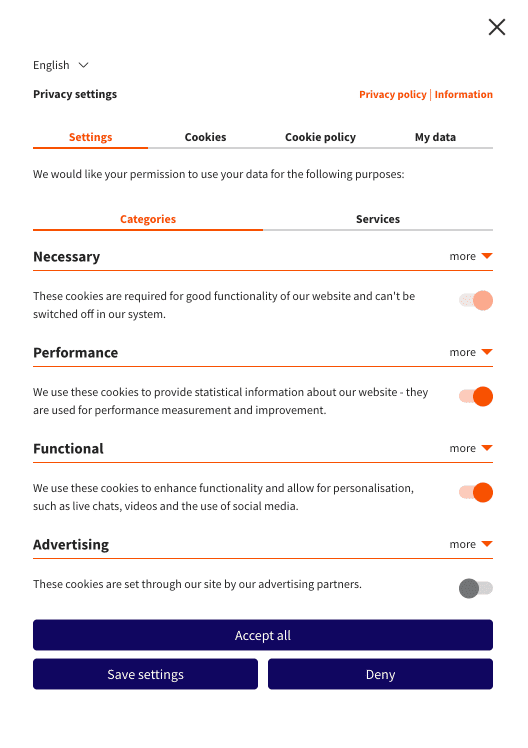 GDPR compliant cookie solution / cookie banner
Adobe Commerce / Magento Cookies Consent solution / Cookie Banner
No two webshops are the same, so why should their cookie banners be? Our Adobe Commerce / Magento cookies consent solution can be completely customized to your brand's individual colors, fonts and style.
Easily configure and manage our tool through a simple, intuitive interface. Free of technical jargon and unnecessary frills, you'll have it up and running in no time.
CookieFirst's Adobe Commerce / Magento cookies consent solution can scan your site to get insights into its use of third-party scripts. This information can then be used to automatically generate a cookie policy tailored to your specific needs.
Get a deep understanding of your page's cookie use as well as how users are responding to cookie banner options.








What is CookieFirst? – Adobe Commerce / Magento Cookies Consent
CookieFirst is the answer to the long-standing challenge of cookie consent management. Our tool was designed by experts to help website owners handle their use of third-party scripts and maintain adherence with prominent data laws like the GDPR. Through our solution, businesses can scale their Adobe Commerce stores without having to worry about the risk of fines for non-compliance. The CookieFirst CMP offers a Magento Cookies Consent solution.
An easy to use interface for Adobe Commerce / Magento users.
Entrepreneurs have enough on their plate to begin with, add the stress of cookie management on top of that and you've got a recipe for disaster. That's why we've designed the CookieFirst CMP to be as simple as possible for site owners. You don't need to be a tech expert to use our solution, and we provide clear instructions every step of the way. And because our solution seamlessly integrates with Adobe Commerce JS, you won't need to change a single line of code.
Our prices
About Adobe Commerce / Magento
Adobe Commerce, formerly known as Magento, is a popular e-commerce platform used by businesses of all sizes. It offers users a flexible and scalable way to create an online store, and its wide range of features makes it a popular choice among web developers.
Adobe Commerce is written in PHP and uses the MySQL relational database management system. The software is available under both an open source license and a commercial license. It was created in 2008 under its former name, Magento. The company was acquired by Adobe Inc. in 2018 and renamed Adobe Commerce.
Adobe Commerce is used by many large businesses, including Coca-Cola, Jaguar, Ford, and HP. Small businesses and startups can also benefit from using the platform, as it offers a wide range of features and can be customized to fit the needs of any business.
Pricing | Adobe Commerce / Magento Cookies Consent
Get 1 Month for Free with Annual Plans