WordPress Cookie Consent | 
CookieFirst
If your website places certain cookies on your visitor's computer, you are required to add a cookie notice to your website. Some cookies are place by a third party script which you integrate in your site. According to the GDPR and ePR, these third party cookies can only be placed after your visitor gives consent for that. In this article we show you the best way how to do that and to be fully GDPR-compliant with a WordPress Cookie Consent banner.
WordPress Cookie Consent
Many WordPress site-owners do want a cookie banner or notice on their website because of the GDPR legislation. That sounds logical but before the GDPR took effect, it was already mandatory to show a cookie banner on your website. In this article we explain what cookies are, which cookies you can place without consent and why CookieFirst is the best WordPress Cookie consent manager to use.
What are cookies?
A cookie is a small file which is being placed on your visitors computer, tablet or smartphone. In this file certain information is being stored. From this info, the visitor can be identified at a later point in time. In some cases the information in certain cookies can be used and enriched by other websites.
Need consent or not?
Whether consent is needed for placing cookies depends on the level of privacy invasion the cookie causes.
Some cookies are necessary
Some cookies are necessary for a website to function properly. Webshops for example, use cookies to store which products you've added to your cart. Multilingual websites use cookies to remember which language you've chosen, so you don't have to choose you language again with a next visit.
These are called functional cookies, and hardly store any personal data. So for most of these no consent is needed. However it is required to inform your visitors about these cookies. This can be done with a cookie banner and cookie notice or cookie declaration.
Google Analytics? No consent needed
For use of Google Analytics you don't need explicit consent, at least, if you comply with the following terms:
IP-addresses are being anonimized.
The collected data is not being shared with Google and or Third parties
Your website uses HTTPS (SSL)
Visitors are being informed about the use of Google Analytics
Tracking and Third party cookies: asking for consent
Tracking cookies May be placed only if a visitor has given explicit consent to do that. These cookies violate your visitor's privacy. They are often used to track individual behaviour and for profiling. This way relevant ads can be shown to a specific user.
If you use a 'Share' button for Facebook often Facebook places cookies. We're talking about the 'native' share buttons from Facebook or for example the 'box' in which you can see which friends already like something. These kinds of elements may only be loaded after a visitor has given consent for these third party cookies.
Why that is? It's because according to the GDPR legislation, your website has to clearly mention the specific purpose of asking consent and you also have to provide a granular opt-in for every third-party tracking script without any pre-ticked boxes. This is why the CookieFirst consent system asks for separate consent for the different purposes. It will also make you as transparent as possible in you use of third-party scripts.
WordPress Cookie Consent plugins
There are many different WordPress Cookie plugins. If you only use cookies for which you don't need consent it's really simple to find a free cookie consent plugin. In this case you only have to inform your users about the cookies on your website.
If you do use cookies for which user consent is needed, then things get more complicated. This is because your website may only place these cookies after your visitors has given consent to do so. In case of the Facebook 'like box' you only can let this script load after your visitor's explicit approval. This is more complicated than just showing a banner, and so there's no free solution that makes you compliant with the current cookie laws.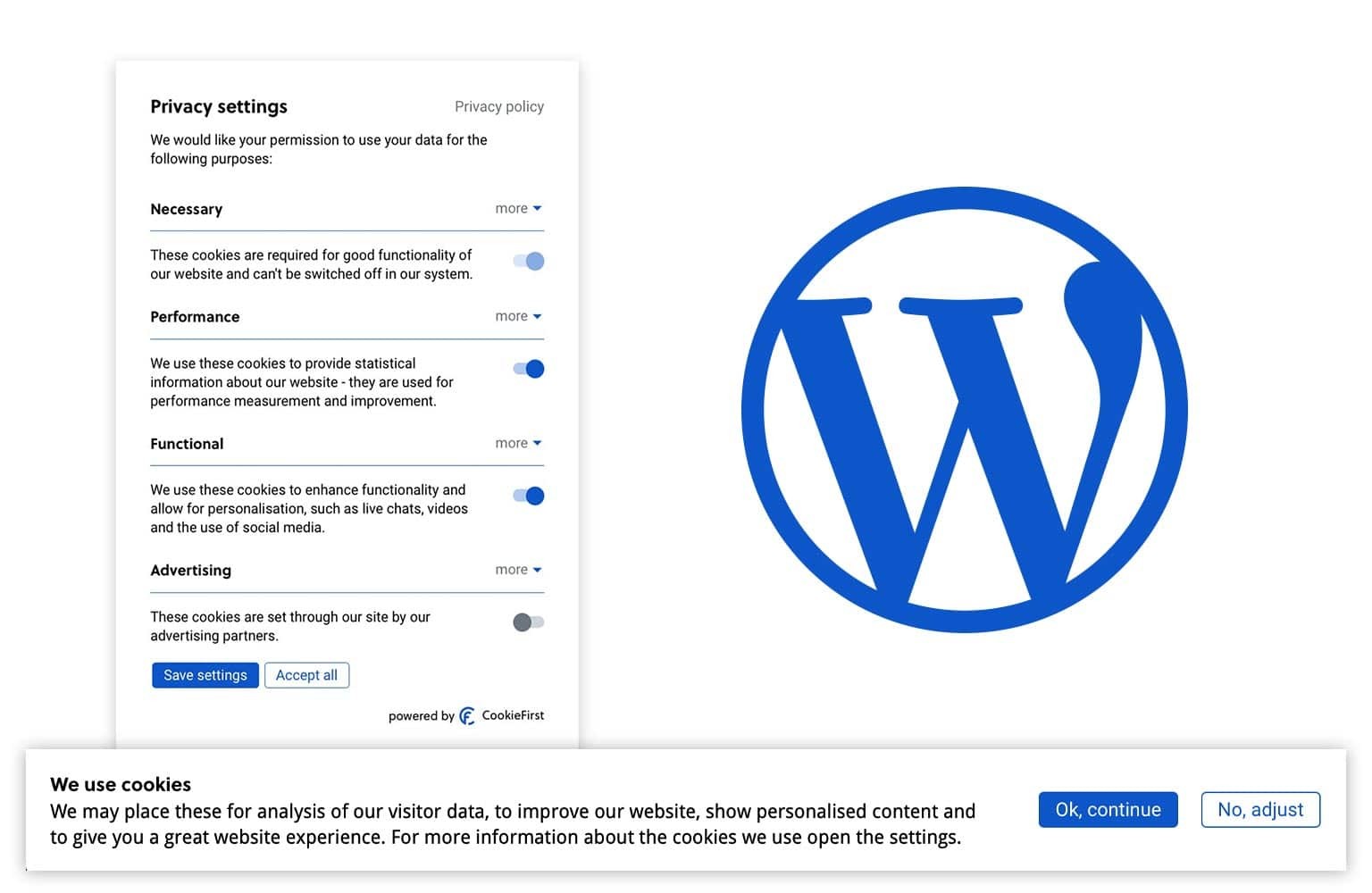 Free WordPress Cookie Consent plugin
At CookieFirst we have a Free plan. If you use only 1 third party script on your website, you can use this Free plan to be compliant. Create your free account and install our WordPress Cookie Consent plugin. Connect them by filling in your account details in your WordPress backend and voila, you're up and running.
We also scan your website periodically for cookies and automatically generate your cookie declaration. Simply place the embed script in a WordPress page and it loads your cookie declaration with a list of all cookies on your website. Another step in order to be fully compliant with the new cookie laws.