All organisations at some point need to handle their data privacy requirements
It doesn't matter what type of business you run – whether it's developing new software or selling a product, you need data to be successful. Data is perhaps the most valuable asset your organization has, but privacy requirements must be taken into consideration when collecting it.

For instance, what can you do to mitigate cyber threats and ensure that you comply with applicable regulations? How can you ensure that you get the data you need without compromising the security of your customers?
This guide will discuss how your organization should tackle data privacy requirements, including an overview of which regulations might apply, what technology you may want to consider, and how to prepare policies and training programs.
Let's dive in!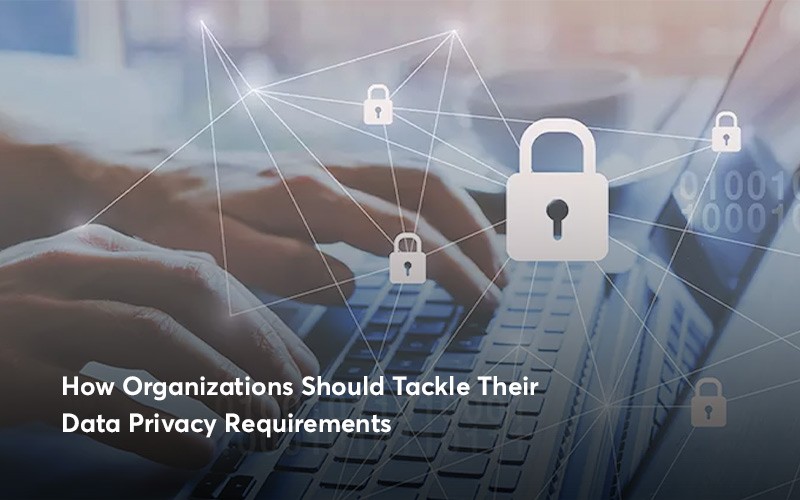 Understand Applicable Regulations
The first step to tackling data privacy requirements is to determine which laws apply to your organization. Cyber security has become a top priority for regulators around the world, and privacy laws aim to secure and regulate the way that businesses collect and process personal information.
There are more than 125 countries with data privacy laws in place, so it is important to recognize which ones apply to your organization. Let's review some of the most well-known regulations, as there is a good chance you will need to comply with them:
GDPR
The most well-known data privacy law is the GDPR or the General Data Protection Regulation. This law was developed in the European Union and is generally considered the most comprehensive and effective international data security regulation.
So, what exactly does the GDPR do? In simple terms, it governs how organizations process the personal data of individuals that live in the EU. It protects their rights and establishes rules that businesses must follow before collecting data, such as obtaining consent for the use of tracking cookies and other tracking technologies and implementing appropriate security measures.
The United Kingdom recently adopted its own version of the GDPR, which mirrors the one that applies to the European Union. It does, however, include a few changes to address requirements specific to the UK.
PIPEDA
The Personal Information Protection Electronic Documents Act, or PIPEDA for short, is the privacy law that governs data security in Canada. It applies to every private sector business in Canada that processes data for commercial use, and it aims to the personal information of Canadian citizens.
Australia Privacy Act
Another relevant piece of legislation is the Australia Privacy Act which – you guessed it – applies to organizations that collect or process data relating to Australian citizens. This law was initially enacted in 1988, but it has undergone several revisions to ensure that it stays up to date with changing technology and business practices.
CCPA
California's CCPA, the California Consumer Privacy Act, was one of the first data privacy laws in the US. It protects residents of the state and offers full control to individuals over how their data is collected, used, and stored.
PDPA
The Personal Data Protection Act, or the PDPA, is Singapore's data privacy regulation. It governs how data is collected, used, and disclosed in the country.
Develop Organizational Policies and Training Programs
After you have developed a clear understanding of relevant privacy requirements and regulations, you must create policies and training programs for your employees.
Your data privacy policy will serve as the guiding text for everything related to data collection, processing, and storage. This legal document will include all the rules that your organization will follow to ensure compliance with regulations like the GDPR, as well as other relevant laws.
Not only do you need to develop a privacy policy that guides your team, but you also need to have an effective implementation to put the policy into action. The steps you will take to safeguard customer data and enhance security should be defined in the document too.
Once you create the foundation for data privacy in your organization, the next step is to train your employees and raise awareness. The implementation will only be successful if you embed it as part of the work process and business culture, and the training program is a crucial component of that.
Every employee should receive training about best practices in the industry, data security principles, privacy practices, cyber security threats, and more. After the training, each employee should be held accountable for understanding internal policies and requirements. Consider incorporating this training into your onboarding program and having regular refresher courses as laws change and evolve.
Invest in the Right Technology
One of the most important things your organization can do to tackle data privacy requirements is to invest in the right technology. Failure to comply with data regulations can lead to expensive penalties, financial loss, and a damaged reputation – so you need sophisticated tools to ensure that doesn't happen.
The more you can do to automate your privacy processes and use technology to secure data the better. Here are some of the most common systems and software that can help you accomplish this:
Firewalls
Your firewall is the first layer of defense against a cyber security threat. In basic terms, a firewall refers to hardware and software that allow you to monitor inbound and outbound network traffic. It will filter this traffic according to the rules you set so that you can better protect your business data.
Encryption and Tokenization Tools
Encryption and tokenization tools can also help your organization keep data safe and comply with privacy regulations.
The term encryption refers to a technique that ensures only a specific user can access a piece of information. It requires that the user utilize a unique encryption key to decode the data, so even if a third party were to intercept it, they would not be able to read it.
Tokenization is a similar technique but instead of encrypting the data, it is instead substituted with random characters. The strings of characters are called tokens, and the user needs a token vault to be able to reverse the process and access the original information.
Consent Management Platform (CMP)
In order to obtain, store and manage consent for the use of tracking cookies and third-party scripts of other tracking technologies your organisation needs a consent management platform like the CookieFirst cookie consent tool. According to most data privacy regulations it is required to be able to give proof of consent. So the user's consent needs to be logged. The CookieFirst CMP for cookie consent offers just that. Have a look at the features overview.
Data Loss Prevention Software
DLP, or data loss prevention software, allows you to monitor activities relating to sensitive information. They can detect certain behaviors and track data flows to prevent breaches, accidental deletion, and other serious incidents.
Data Erasure Software
Most data privacy regulations also have rules regarding how information must be disposed of. That's where data erasure software comes in, as it helps companies delete electronic data and confirm that it is not recoverable.
Once you determine that you no longer need user data, it is recommended that you leverage this technology to remove it.
Endpoint Protection Platforms
EPP, or Endpoint Protection Platforms, should also be part of your plan to tackle data privacy requirements. This technology is installed on devices to prevent data loss, malware, and other malicious activity or security lapses.
For instance, you can use an EPP to secure routers, mobile devices, networks, and even printers!
Are your an agency, web developer or another reseller?
Earn 30% commission, take a look at our
reseller model

 or contact us for numbers larger than 500 clients
Calculate your revenue
Avoid Unnecessary Data Collection
Another important step your organization can take is to avoid unnecessary data collection. Simply put, if you don't need to gather the information or it doesn't add value to your business processes, then don't ask for it!
Only the details that you need to execute your specific business purpose should be collected and stored, and you should keep them until it is no longer necessary. At that point, you are responsible for safely removing the data from your records. Not only can minimizing data collection help you avoid breaching data regulations like the GDPR, but it can also help reduce your data storage and processing costs.
Likewise, you should strive for transparency when it comes to the data you do collect. Let your customers know what information you are keeping, why, and what you plan to do with it – this will help build trust and allow them to provide or revoke consent.
Also, consider developing an inventory of the data you collect. Here you can classify it based on the level of sensitivity, and you can use that information to determine the next steps for security and retention. For instance, you can implement different policies for the various levels of sensitive data to ensure maximum efficiency and security.
Focus on Privacy by Design
As you tackle security requirements in your organization, focus on privacy by design. Everything that your business does should align with the regulations that apply to it – whether it is the GDPR, PIPEDA, or the CCPA, you must embed compliance at each step of the process.
In other words, don't wait until after you set up business processes to consider data privacy requirements. Instead, you should design them with compliance in mind from the very beginning! This will help you avoid costly penalties and having to redesign your entire business practice.
CookieFirst
Get consent before loading third party tracking scripts
CookieFirst aims to make ePrivacy and GDPR compliance easy and quick to implement. The CookieFirst platform offers third-party script and consent management, statistics, periodic cookie scans, automated cookie declaration, banner customization, multiple language options, and more. Avoid large fines and get consent before loading third-party tracking scripts — try CookieFirst!