Most marketers are extremely familiar with the concept of Google Analytics. It's a powerful, all in one platform built to measure engagement and traffic across websites and apps, and can be extremely advantageous in both sourcing and capitalizing data.

Google Analytics can be leveraged in a number of tasks, including:
Generating customizable reports to manage and visualize data
Identifying which online campaigns deliver the best performance
Filtering and manipulating data
Conducting funnel analysis
Understanding user demographics based on factors like language, browser type, country and user age group
All About Google Analytics 4
Google Analytics has gone through some major changes over the years, adapting tools and features to the internet's possibilities as they develop. Google Analytics 4 is Google's latest version of the tool, which introduces some new abilities and functions that are set to redefine its potential.
It's an upgrade from the preceding version, Google Analytics 3, which is also commonly referred to as Universal Analytics. The main differences between these two are notable, with Google Analytics 4 taking a lot of what prior versions could do and reworking or completely upgrading it.
A notable shift comes in the measurement model used by the tool, with Google Analytics 4 adopting one that is based on parameters and events instead of Universal Analytics' sessions and pageviews structure.
Another change is the fact that this new release incorporates User ID across its reporting, analysis and insights functions, as opposed to the need for a separate User-ID reporting view found in the older version.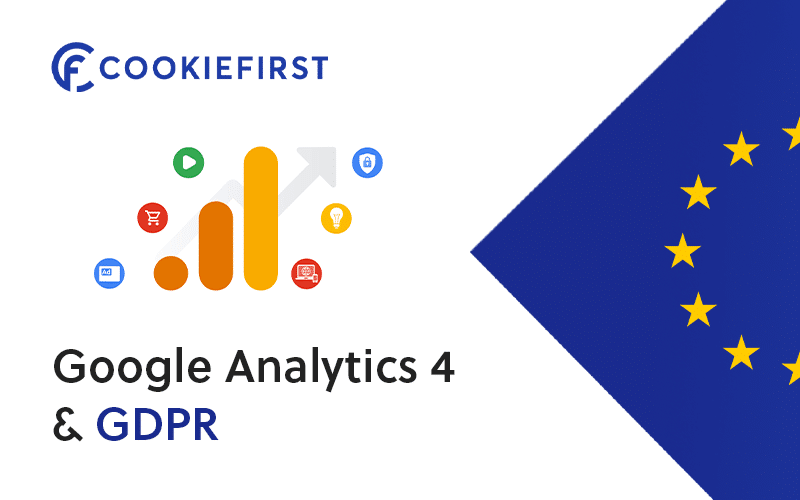 Google Analytics 4 & GDPR – Use GA 4 in a GDPR-compliant way
In addition to these upgrades, Google Analytics 4 offers a number of other novel capacities and advantages, such as:
Enhanced customer journey tracking
Improved user privacy and tracking features
Simplified events and goals setup
Augmented user engagement analysis abilities
Better visualization and reporting tools
New parameters and controls
The Impact On GDPR Compliance
Because of its ability to acquire and track user data, Google Analytics has long been an area of focus for those wanting to stay GDPR compliant. With the introduction of Google Analytics 4 and the changes it's set to bring, businesses will need to take a second look at their GDPR compliance strategy.
The following are key areas where your adherence to GDPR and E-Privacy regulations (PECR) may be affected when making the switch.
IP Anonymization
The last version of Google Analytics collected entire user IP addresses by default. While done for a reason, the practice has long been concerning from a data privacy standpoint. This is because an IP address can be used to identify an individual, and is considered PII (Personally Identifiable Information).
A workaround many employed with GA 3 was to edit how the system collected these addresses, so as to anonymize their last three to four digits. However, with Google Analytics 4, this will be done as default and cannot be changed.
While this appears to be a more GDPR compliant system, some could argue that these changes make little impact. The reason being that while the user's full IP address might not be recorded, the data collected can still be used to infer their identity. Furthermore, because tracking cookies are used in these cases, websites still need to get user consent under many e-privacy regulations.
So, while a notable change, it's important to know that this likely won't change your website's need to issue cookie consent notices. Be sure to keep Google Analytics in your Data Privacy Impact Assessments, as well.
Data Storage
Google Analytics 4 institutes significant changes to how long data may be kept. In the previous version, you could pick a data retention duration of up to 64 months. With GA 4, you now have the two options of two or 14 months. This change is also more GDPR compliant since it makes it easier to apply the data minimization principle. After making the switch however, you'll likely need to review and potentially change your organization's data retention policies and notifications.
Be cognizant of the fact that this change will affect how easy it is to use data in historic comparisons as well. While still possible, you'll now have the only option of exporting data to a data warehouse and then later connecting it to a tool like Google Data Studio.
Server Location
Google does not provide users with any options regarding the server that it uses to process website data. Data processing for Google Analytics takes place on many servers located across the multiple continents, with a significant amount of computational activity taking place at US-located servers. Because sending personal data, like analytics data, to foreign destinations such as the US is deemed a restricted transfer under GDPR, this raises yet another compliance risk. With Google Analytics 4, you will need to sign updated data processing agreements with Google, and properly store the signed records for further reference. Also be sure to disclose the use of international data transfers within your website's privacy policy.
Are your an agency, webdesigner or another reseller?
Earn 30% commission, take a look at our
reseller model

 or contact us for numbers larger than 500 clients
Calculate your revenue
Deletion Of Individual Data
Google's new user explorer tool is a much-needed tool for GDPR compliance. Offering the capacity to remove an individual user's information, this capability far exceeds previous versions of GA, which only permitted the deletion of data within a certain time range.
One important thing to be aware of though is the fact that the information available in GA4's user explorer tool is significantly simplified compared to the platform's earlier versions.
You can now see every event in the user's timeline, but you can't get much information about them, like the URL of a page-view event. This renders the tool significantly less useful, however considerably more private.
It's uncertain whether or not Google will be issuing further updates to this reporting tool that will provide increased insight into user events, so it's essential to consider if this ability is a deal breaker prior to switching over.
Sharing with Other Google Services
Google Analytics 4 gives you the opportunity to consent to sharing data with Google's account managers, technology support teams and other services.
Be certain to consider all of these options carefully; several of them will require further information and disclosures within your privacy policy.
To make things simpler, you can just opt out of data sharing.
Be sure to also pay close attention to Google signals opt-in or advertising preference when making your selection. This may allow Google to build advertising profiles with your users' data, and of course, necessitate that you add an opt-in consent under privacy regulations.
There's a lot to consider when moving to Google Analytics 4, particularly if you're operating in an industry or region with stringent data privacy laws like GDPR. That said, the platform does offer some powerful new features and capabilities that may be worth the effort for your organization. Be sure to weigh all the pros and cons carefully before making the switch.
A Consent Management Platform (CMP) like CookieFirst can be used for obtaining consent from website users when you are using third-party tools on your website, like Google Analytics or tracking technology and advertising technology.
CookieFirst
Get consent before loading third party tracking scripts
CookieFirst aims to make ePrivacy and GDPR compliance easy and quick to implement. The CookieFirst platform offers third-party script and consent management, statistics, periodic cookie scans, automated cookie declaration, banner customization, multiple language options, and more. Avoid large fines and get consent before loading third-party tracking scripts — try CookieFirst!