Register today for your FREE account for our React Cookie Consent solution.
Try our paid subscriptions Basic and Plus for Free for 14 days.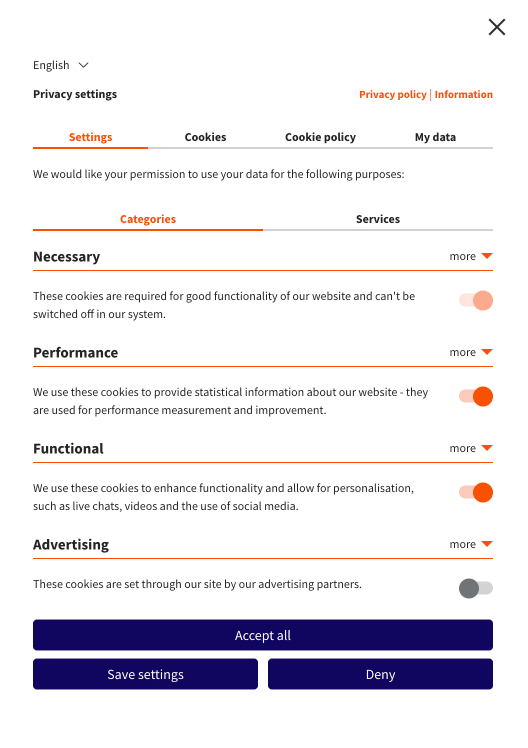 GDPR compliant cookie solution / cookie banner
React Cookie Consent solution / Cookie Banner
Change the banner to fit your corporate identity. Change colors, fonts, position and design of the cookie banner.
One of the most popular aspects of our react cookie consent solution is the ease of use.
We scan your website for cookies regularly and generate a cookie policy for you to embed in your website.
View consent statistics of your users and receive cookie scan reports from your web domains.








What is CookieFirst? – React Cookie Consent
CookieFirst is a cookie consent management platform that enables website owners to fully comply with the GDPR and ePrivacy regulations. Our React Cookie Consent solution is easy to set up and helps to prevent fines for cookie abuse and use of third-party scripts without consent on your website.
An easy to use interface for React users.
Current cookie laws such as the ePrivacy Regulation and the GDPR require a cookie consent solution for any website that uses cookies. Not all consent solutions work properly with React JS. Our React Cookie Consent solution is designed to give visitors the ability to give or change their consent to the use of certain cookies or third-party scripts that are present on a web domain.
Cookies are small files that are automatically downloaded by computer browsers. In and of themselves, they are harmless pieces of text that are stored locally and can be easily viewed and deleted. While cookies are mentioned once in the long regulation of the official EU website, these few lines have a significant impact on cookie compliance. In other words, the regulation states that if cookies can identify a person, they are considered personal data.
CookieFirst offers an automatic cookie scanner, an automatic generator for your cookie policy and a consent management platform to get a complete overview of your visitors' consents. The system is multilingual and the banners and cookie notice panels can be customized to fit your needs.
Our prices
Pricing | React Cookie Consent
Get 1 Month for Free with Annual Plans